EU - New Bio-Protection Program
CID LINES n.v., the manufacturer of more than 300 cleaning and disinfection chemicals, has extended its range with the BIOPROTEXION BOX, which was launched at EuroTier 2008.
Bioprotexion Box forms a part of the Service tools that CID LINES provides to service its worldwide customers base to secure food safety.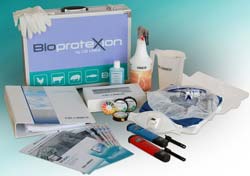 Bioprotexion Box consists of a special briefcase, filled with service equipment and documentation. It can be filled according to customers demand, with items such as:
detergent titration kits
electronic pH meter
electronic conductivity meter
swabs to measure protein residues (instant reading of 'clean', 'medium' or 'dirty')
personal protection equipment (goggles, gloves, hair nets etc)
ready-to-usee disinfectant in a spray bottle
hand sanitizer, complying with the European Norms (EN)
documentation with cleaning and disinfecting protocols that can be customised
personal protective equipment such ass overalls, gloves and googles etc.
It's the next step after offering a 288 items equipment package for product application – foam lances, foam generators, pumps, dispensers etc.

This tool is available for hygiene consultants who have been trained at CID LINES Training Institute (CLTI) on Standard Operation Procedures for cleaning, disinfection, water treatment and disease prevention.

Bioprotexion by CID LINES is the next step to bring HACCP from the processing plant to the farm and to apply the companies' Innovative Hygiene Solutions 'Farm To Fork'.