Interactive Customer Service Portal Launched
THE NETHERLANDS - Pas Reform will introduce SmartPortal, the future of customer service for the hatchery sector, at EuroTier 2008.
With a passion for precision and dedication to shaping the future of hatchery technology, Pas Reform's SmartPortal
TM
is a new interactive, web-based customer service portal that delivers access to help, advice and support for hatchery managers, when they need it – wherever they are.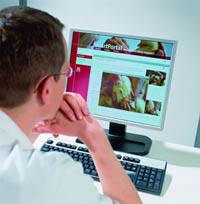 SmartPortal
The company says SmartPortal defines the future of customer service for the modern hatchery, providing access to a uniform hatchery management framework online: a framework that has been devised specifically to help improve daily practice, performance and results.

Created exclusively for the use of Pas Reform customers, SmartPortal offers rapid, secure access to information, help and advice, including:
Documents and procedures to guide a successful incubation process, from the arrival and quality control of hatching eggs, to the placement of day old chicks
Downloadable Academy Publications, including incubation programmes, user manuals and installation guides
Access to real-time online collaboration and support, regardless of time or location.
SmartPortal is:
Open for business 24/7 – anytime, anywhere around the globe
Orders and requests at your convenience, around the clock
Comprehensive diagnostic system for analyzing hatching results
Active participation in Pas Reform Academy forum discussions
Access to a worldwide hatchery community
Secure online collaboration for Project Teams
Free access to a comprehensive range of hatchery related downloads.
SmartPortal will make an appearance at the World Poultry Show, during Eurotier 2008 (November 11-14). We hope you can join us during your visit, when we invite you to come and see for yourself how 'round-the-clock' customer care looks for the hatchery sector of the future in Hall 11, on stand E59.