Lithograph Celebrates Traditional British Goose
UK - A lithograph commissioned by British Goose Producers to mark their 25th anniversary is being used this year to promote the most traditional of Christmas meals.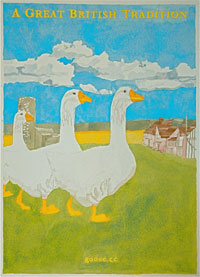 Lithograph painted by Harry Hillier
They turned to the Norwich School of Art & Design, which chose final-year degree student Harry Hillier to produce the lithograph. He portrayed three classic white geese strutting through green and pleasant medieval countryside under the slogan 'A great British tradition'.

Goose was for centuries the favourite choice for Christmas and also Michaelmas — some colleges still refer to the autumn term as the 'Michaelmas term' — and today it is enjoying renewed popularity with consumers opting for traditional fare. Geese were traditionally reared on stubble fields after harvest and grass paddocks. They don't respond well to more intensive methods and enjoy a very outdoor lifestyle today.

A first edition of high quality prints on German etching paper has been made for goose producers this autumn individually signed by the artist. Further prints will be seen this year in butchers' and farm shops around the country.