Sales of Animal Medicines Rose in 2007
US - The Animal Health Institute has published a report covering the volume of medications used in farm animals and pets in 2007. Total sales were up by 5 per cent compared to the previous year, which could be explained by increased meat production.
Working with veterinarians to provide them the tools to keep farm animals and pets healthy, animal health companies increased sales of antibiotics in 2007. Antibiotics are critical disease-fighting medicines used to treat diseases in dogs, cats and other companion animals, and in farm animals to improve their well-being and ensure the production of safe and wholesome food.

Total sales for use in animals rose 5 percent over 2006, according to data provided by the research-based companies that produce animal medicines. One factor that may have contributed to the increase was an increase in U.S. meat production of more than 2 billion pounds.
---
*
"The entire increase in the percentage of the total amount used for growth and efficiency was in ionophores, compounds not used in human medicine."
---
The antibiotic data were collected from a survey of members of the Animal Health Institute (AHI), consisting of companies that make medicines for pets and farm animals.

"Animals are prone to illness and they require medicines to treat and prevent disease," said AHI President and CEO, Alexander S. Mathews. "Animals need medicine, too, and the availability of these medicines to protect animal health is an essential tool in the fight to protect human health."

The amount of the total used for growth and efficiency in 2007 was estimated to be 13 per cent, up from less than 5 per cent the previous year.

Two factors accounted for this increase. First, revisions to prior years' reports were recognized. Second, some increase was expected as animal producers struggle with high grain prices and seek to capture both the economic efficiencies and the health benefits derived from the use of these products. Notably, the entire increase in the percentage of the total amount used for growth and efficiency was in ionophores, compounds not used in human medicine. The amount of non-ionophore compounds used for growth declined slightly in 2007.

"These figures are an indication that producers are employing judicious use principles," said Mr Mathews. "As they try to gain efficiency to combat high feed costs, they are being careful to use compounds that have no chance of impacting human health."

All antibiotics undergo a rigorous approval process at the Food and Drug Administration that includes an assessment of safety of the product for the treated animal and safety of the milk and meat produced. In addition, all proposed antibiotic products as well as those previously approved undergo a risk assessment procedure, called Guidance 152, to scientifically measure the safety of the product with respect to health hazards resulting from the spread of antibiotic resistance. The Food and Drug Administration (FDA) approves antibiotics used in animals for four purposes: Disease treatment, disease control and disease prevention, which are considered by FDA and the American Veterinary Medical Association to be therapeutic, and for growth promotion.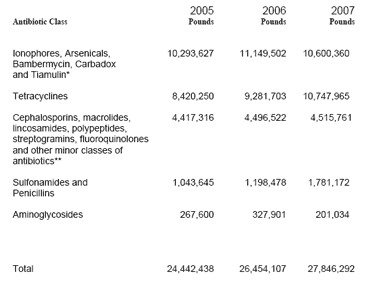 2007 AHI Survey:
Active Antibacterial Ingredients Sold by AHI Members