US Provides Record Level of Support Against AI
US - The United States will provide more than $44 million in additional funding to the United Nations' campaign to combat the global outbreak of bird flu, the UN Food and Agriculture Organization (FAO) announced yesterday.
The FAO has now received almost $113 million from the new US Agency for International Development (USAID) in support of its avian influenza control and prevention campaign reaching more than 96 countries.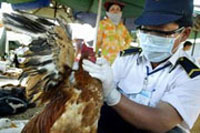 Poultry inspection in Viet Nam
"Although many countries have successfully managed to get avian influenza under control, the virus remains present in 10 countries and is mainly entrenched in countries like Egypt, Indonesia and Viet Nam," said FAO Chief Veterinary Officer Joseph Domenech.

"The additional United States funds will enable FAO to continue its work in support of countries that are still struggling to get the virus under control," Mr. Domenech added.

Although Indonesia, Viet Nam and Egypt will be the main beneficiaries, funds are also earmarked for bird flu control programmes in Afghanistan, Bangladesh, Cambodia, China, India, Laos, Myanmar, Nepal, Pakistan, South Asia, and West and Central Africa.

Avian flu, or H5N1, has impacted more than 60 countries since the epidemic began in 2003 in Asia. Most nations have eliminated it from their poultry populations and the virus has not spread as rapidly as feared. However, the threat of a human pandemic remains and urgent preparations for potential outbreaks are still critical.

FAO's avian influenza programme currently amounts to around $283 million and its main donors are Sweden, Australia, Japan, the European Commission, the United Kingdom, Canada, Germany, the World Bank, UN Development Programme (UNDP), the Asian Development Bank and France.
Further Reading