36,000 Laying Hens in Free-Range Management
THE NETHERLANDS - Gerben van Kampen from the Dutch town of Scherpenzeel invests in the future: the innovative poultry producer took over the layer farm from his parents and recently inaugurated a modern aviary house for 36,000 laying hens in free-range management.
Together with the new barn, Mr van Kampen now houses more than 53,000 laying hens on his farm. When selecting the animal-friendly equipment for the 80 x 32-metre building, which is equipped with two 5-metre wide 'wintergardens' on both sides of the main building, Mr van Kampen opted for the well proven Natura Colony 2000 system from Big Dutchman.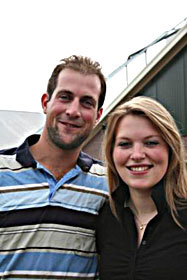 Gerben van Kampen and Bertine van den Brandhof invested a lot of energy into their successful project.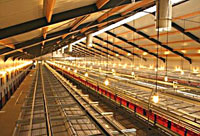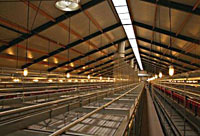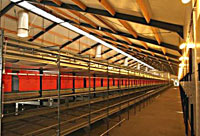 During the planning phase for the new house, he was supported by his friend, Bertine van den Brandhof.

The decision for the Big Dutchman aviary system was mainly made because of the nests. "The nest floors can be folded up to a nearly vertical position.

We visited poultry producers who have had these nests for three years already and the nests are still perfectly clean" explains the 28-year-old poultry producer from the Dutch province of Gelderland. This is also beneficial for the egg quality.

The patented tilting floor from Big Dutchman is ideally suited both for laying hen production and for broiler breeder production.

The eggs are laid directly in front of the egg belt, which is located at the rear of the nest. This makes for a short rolling distance of the eggs resulting in a low share of cracked and hair-cracked eggs.

Another advantage: before the divided floor completely closes the nest for the night, the centre of the floor is slightly raised to ensure that remaining eggs can roll off slowly and safely onto the egg belt.

As a result, the nest remains free of eggs. Afterwards, the nest floor is fully lifted and then closed for the night. This ensures that the hens can neither sleep nor brood inside the nest, and any accrued dirt simply falls off the nest mat.