Avian Flu Case in Cambodia Brings World Total to 39
CAMBODIA - The Ministry of Health of Cambodia has announced a new confirmed case of human infection with the H5N1 avian influenza virus. WHO reports that there have been 39 human cases of avian flu so far this year, 29 of which have been fatal.
The World Health Organization (WHO) reports that the victim is a 19-year-old male, from Kandal Province. He developed symptoms on 28 November and initially sought medical attention at a local health centre on 30 November. The presence of the H5N1 virus was confirmed by the National Influenza Centre, the Institut Pasteur in Cambodia, on 11 December.

The patient is currently hospitalised and a team led by the Ministry of Health is conducting field investigations into the source of his infection. Contacts of the case are also being identified and provided with prophylaxis.

Of the 8 cases confirmed to date in Cambodia, 7 have been fatal.
Number of Human Cases of Bird Flu for 2008 Reaches 39
WHO has published the latest statistics for the cumulative number of confirmed human cases of H5N1 avian influenza A reported so far this year.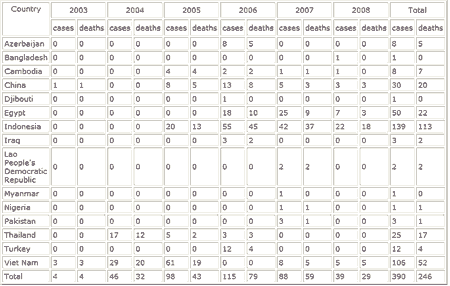 Cumulative number of confirmed human cases of avian influenza A/(H5N1)
Source: WHO
Total number of cases includes number of deaths
WHO reports only laboratory-confirmed cases
All dates refer to onset of illness
Further Reading