Award for Promoting British Chicken
UK - A leading light in the West Country's poultry industry has received a national award for promoting the British chicken sector and for encouraging openness and transparency.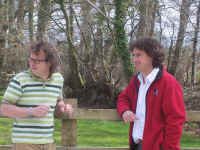 Andrew Maunder (right) is pictured with Hugh Fernley Whittingstall
Andrew Maunder, commercial director at 2 Sisters Willand, was presented with the British Poultry Council Distinguished Marketing Award at the Houses of Parliament this week.

Having been born and raised into the West Country poultry firm Lloyd Maunder Ltd., now 2 Sisters Willand, Maunder has always adopted a proactive and often high profile approach to promoting all chicken rearing systems.

In the past year alone he collaborated with both Jamie Oliver and Hugh Fearnley-Whittingstall in the making of their respective programmes about poultry rearing in January, championing both the farmers and the industry with great effect.

The BPC award citation reads: "Andrew has never been afraid to face up to critics of our industry and was successful in persuading Hugh Fearnley-Whittingstall that organic and free range chicken are not the only option. Andrew has worked tirelessly with farmers and opinion formers to offer consumers a range of affordable choices. In what has been a difficult media environment, Andrew's role on behalf of the British chicken sector has been essential."

Andrew has worked in just about every area of poultry production since joining the family company more than 20 years ago and was closely involved with the initial drive to 'put chicken outdoors' in 1996 when free range production was pioneered for the retail market.

He took on the role of commercial director at Lloyd Maunder Ltd. in 2000 and continued to focus on improving product quality, animal welfare and the company's customer base, particularly through the development of the Devonshire Red brand of chicken. He has remained with the company through its acquisition by 2 Sisters Food Group in January this year.

"The award was a surprise and an honour," said Mr Maunder.

"I do what I do for the poultry industry for the simple reason that I feel passionately about it."

Mr Maunder's enthusiasm for the Devonshire Red and vision to offer customers better, more affordable choice was recently instrumental in persuading South West farmers to undergo rapid conversion to specialist rearing methods.

He added: "Our farmers have invested a lot to scale up production this year in response to increased demand and now we need people to continue supporting them by buying West Country chicken. Our choice of locally reared chicken are available in almost all supermarkets and are clearly labeled as West Country."

In tribute to Andrew, chairman of the British Poultry Council Ted Wright said: "Andrew is always prepared to tackle a difficult issue head on, which has earned him the respect of farmers, retailers and celebrity chefs alike.

"He's become an ambassador for the British chicken sector due to his willingness to step outside his comfort zone and adopt an open and transparent approach.

"This is why he is such an asset to the industry and we're pleased to have been able to recognise his commitment and contribution this week."