CME: Implications of Filing for Bankruptcy on Broiler Industry
US - CME's Daily Livestock Report for 1 December 2008.
Several times in the past few weeks we have highlighted the troubles in the chicken industry and particularly the situation of one of its largest players, Pilgrim's Pride. The company stock has been trading as if it had already filed for bankruptcy protection and that filing became official on Monday, December 1 just as the third of its covenants with lenders was about to expire. Keep in mind that this was a Chapter 11 bankruptcy filing, which allows the company to continue to operate under court protection.

In theory, the bankruptcy protection should allow the company to restructure, shed unprofitable parts of its business and continue to operate in the hopes that it will come out of the bankruptcy filing a stronger, albeit a smaller and leaner company than before. A Chapter 7 filing on the other hand would lead to liquidation of the business and a fire sale of assets in order to pay creditors. At this point there is very little talk about a Chapter 7 filing, rather most expect Pilgrim's Pride to operate under court protection and in the process seek to become profitable in a hurry, maybe by divesting parts of the business to improve its cash position, by re-negotiating existing contracts on the books with end users and growers, and by possibly eliminating unprofitable plants.

So what are the implications of this filing on the broiler industry in particular as well as overall US meat supply? First, the filing does not mean that suddenly 24% of the chicken supply will disappear in thin air. In the very short term, chicken output in the US will continue as usual, especially given Pilgrim's Pride request that it pay obligations to growers who currently are in possession of Pilgrim's chickens. For those unfamiliar with the chicken industry, large US poultry companies have long term contracts with independents growers, supplying them with the feed and chicks and getting in return a grown bird ready for processing.

The company would be in trouble if it were not to pay growers as they could then refuse to deliver the grown birds, which in turn would cause plants to sit idle and orders go unfilled. But going forward, it is possible that some grower contracts will be revised or outright terminated. Growers that made investments based on the expectation of steady business and given terms with Pilgrim will be negatively affected. The industry itself could see some structural change and possibly a smaller hatching flock. With chicken production making up the biggest share of US meat production, the reduction in output should be supportive of beef and particularly pork prices.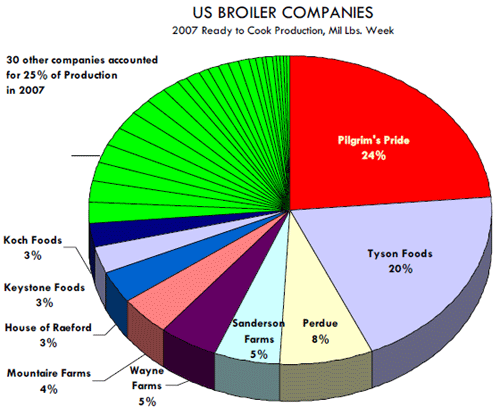 Source: Chart created using annual ranking data from WATT Poultry