CME: USDA Reports Lower Expected Corn Usage
US - CME's Daily Livestock Report for 12 December 2008.
USDA's monthly Crop Production and World Agricultural Supply and Demand (WASDE) reports this week indicated lower expected corn usage and increased competition in world feed markets from EU and former Soviet Union (FSU) wheat. USDA's updated and historic supply and usage figures appear in the tables below.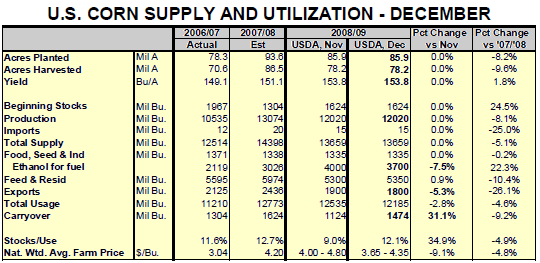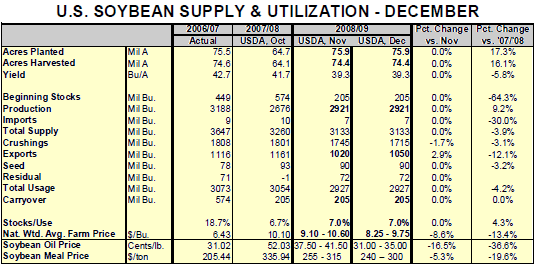 Here are some answers o the questions posed in our December 9 edition:
Will USDA make further revisions to new crop supplies? The answer for now is "No." None of the acreage or yield estimates changed in this report. January's estimates are "semi-final" estimates in USDA parlance, so we may see something then, especially considering that over 11 per cent of corn acreage has yet to be harvested. Dr Bob Wisner of Iowa State estimates that this means roughly 1.3 billion bushels are still at risk and the longer the corn stays out there, the higher the loss will be.


How is corn demand holding up? The answer for now is "Not very well." USDA rolled back its estimate of ethanol usage to 3.7 billion bushels. That is 300 million bushels less than its November number and about the bare minimum to meet the government's renewable fuel standard of 10.5 billion gallons next year. It also rolled back exports by 100 million bushels, reflecting both the strength of the U.S. dollar and the aforementioned EU and FSU wheat supplies that could easily flow into China, Japan and other Asian countries. USDA did increase its estimate of domestic feed and residual usage by 50 million bushels. The new estimate of 5.35 billion bushels, though, is still10.4 per cent smaller than in '07-'08 and 9.3 per cent smaller after one adds in the increased amount of DDGS that will be available this year. U.S, livestock and poultry producers are not cutting back at nearly that pace and the incentives to keep reducing livestock and poultry numbers are falling as corn prices fall.
The bottom line was an increase in forecast year-end stocks to 1.474 billion bushels — above the top of the range of pre-report estimates.. That figure is 31 per cent higher than USDA's November estimate and only 9.2 per cent smaller than this year. USDA reduced its estimated seasonaverage price by $0.40/bushel, to a range of $3.65 to $4.00/bushel.

That should add up to lower corn prices, right? Wrong again! Corn futures finished the week $0.66/bushel (22.5 per cent) higher while cash corn at Omaha gained $0.65/bushel or over 21 per cent.

The big reason for the increase in corn prices, though, was a $0.70/bushel increase in January soybean futures. The WASDE numbers were hardly different from November with only crushings and exports tweaked by an offsetting 30 million bushels. But projected carryout stocks are still only 205 million bushels and the market seems to believe the economy-driven selloff is overdone. We think this week was the first skirmish in the 2009 battle for acres. Will it be enough to make a bottom in the key feed ingredient markets?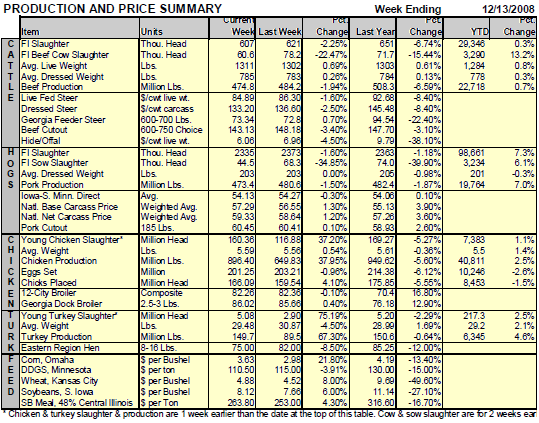 Further Reading