Geneticist Thierry Burlot Joins Novogen
FRANCE - Novogen is pleased to announce that Thierry Burlot joined the company in October 2008. He has been appointed as R&D manager.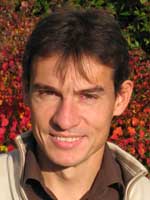 Thierry Burlot
In this role, Mr Burlot will focus on the further development of Novogen's layer products and its product range, and he will also lead the genomics project for Novogen as part of Groupe Grimaud's key focus areas.

Mr Burlot graduated at Institut Supérieur Agricole in Beauvais, France in 1994 followed by a genetics degree at Iowa State University in 1998. Since then, he has been involved in different roles in the genetic selection of pork and poultry. Since 2004 Thierry has been working as a geneticist/R&D manager for ISA in France.

Mickael Le Helloco, general manager of Novogen, said, "We are extremely pleased to get Thierry on board with us. He will be very valuable for our R&D developments for the near and long term future. And with his broad experience in genetics and in practical field situations, Thierry will also be in close contact with Novogen customers to support the sales development and to evaluate the products under different circumstances."