International Egg and Poultry Review
US - By the USDA's Agricultural Marketing Service (AMS). This is a weekly report looking at international developments concerning the poultry industry. This week's report covers the poultry situation and outlook in the Russian Federation.
Russia's Meat and Poultry TRQ
Russia announced Resolution #828 on November 7, 2008 that establishes beef, pork and poultry import volumes and custom duty rates applicable to in-quota and out-of-quota imports for 2009. According to the Resolution, 25% of beef, pork and poultry TRQ volumes for 2009 will be distributed among companies by December 10, 2008 and 100% of the TRQ will be distributed by April 10, 2009. In accordance with the governmental provision, poultry import quotas are 1.21 million MT. Products imported from CIS countries are outside the quota.

In November, 2008 Agriculture Minister Alexei Gordeyev said Russia plans to cut 2009 import quotas on poultry by 300,000 MT and pork by 200,000 MT, in order to help domestic producers. Russian Agriculture Minister Alexei Gordeev said domestic production could replace the imported meats. Russian and U.S. trade officials met November 13 and 14 to discuss the Russian proposals to change the bilateral agreement on trade, but no agreement was met.

Last summer, the poultry market lobbies from Russia and the United States agreed in principle to cut tariff quotas on U.S. imports by 200,000 MT for 2009, but Russia considered this amount insufficient and wants to cut poultry import quotas by an additional 100,000 MT, for a total cut of 300,000 MT. The U.S. is the largest supplier of poultry to Russia, and Russia is the largest importer of U.S. poultry.

The Russian Meat Market Operators recommended a three year extension of the TRQ, through 2012, with the understanding U.S. producers have agreed to support a government reduction in the 2009 quota. They are concerned about maintaining stability in their market while the domestic grows enough to cover demand.

Beginning on January 1, 2009, the use of chlorine-containing substances in the processing of poultry meat will effectively be prohibited. The new chlorine maximum residue level will be 100 times more stringent that the current level set in Russian regulations for poultry production. Russia will also prohibit the use of frozen poultry meat for manufacturing into any type of food product, effective January 1, 2011.
Source: USDA Foreign Agricultural Service Attaché Report, news wires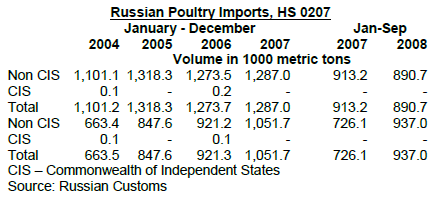 CAFTA-DR and CA-PEQ
The U.S.-Central America-Dominican Republic-Free Trade Agreement (CAFTA-DR) went in to effect with Guatemala, Honduras, El Salvador and Nicaragua in 2006 and with the Dominican Republic in 2007.

Costa Rica signed CAFTA in 2004 and voters in Costa Rica approved the treaty in a national referendum in October 2007. In November 2008 Costa Rican lawmakers passed the last law required to approve the agreement and President Oscar Arias said his office would quickly finalize the paperwork need for CAFTA to take effect. The deadline for completing the process is January 1, 2009.

Under the agreement, each CAFTA-DR country applied immediate duty free access on chicken leg quarters through country specific TRQs that expand annually. Costa Rica was scheduled to establish a 330 MT TRQ for chicken leg quarters in year one, growing by 10% annually. The other countries established a total initial regional TRQ of 21,810 MT, with individual country minimum quota levels.

The process for allocating certificate for the chicken leg quarter quota is handled by the Central America Poultry Export Quota, Inc (CA-PEQ). CA–PEQ was formed in 2005 by the poultry industries of El Salvador, Guatemala, Honduras, Nicaragua and the United States to assist the governments of signatories to the Central American-Dominican Republic Free Trade Agreement (CAFTADR) to administer provisions establishing a tariff-rate quota on chicken leg quarters imported by El Salvador, Guatemala, Honduras and Nicaragua from the United States.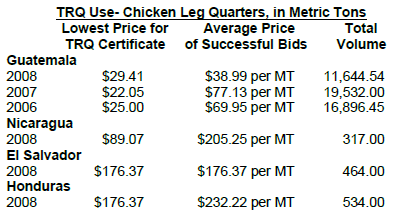 Guatemala had two auctions 2006, four in 2007 and four in 2008. Nicaragua and El Salvador each had two auctions in 2008, and Honduras had one auction in 2008.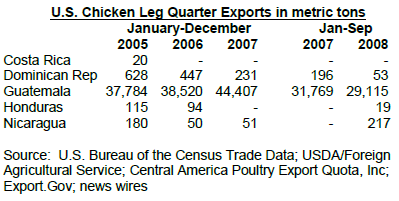 Further Reading