International Egg and Poultry Review
US - By the USDA's Agricultural Marketing Service (AMS). This is a weekly report looking at international developments concerning the poultry industry. This week's report covers the poultry situation and outlook in China.
China
China's domestic production of broiler meat is projected to be 8 per cent higher in 2009 (13.7 million metric tons (MMT)) from 2008 (12.7 MMT) and 11 per cent higher than previous estimates. In addition, poultry egg production in China is forecast to rise 5 per cent to 28 MMT in 2009, down 1 per cent from 2008. The increase in broiler meat production is attributed to the sharp decline in pork production in 2006 and 2007, due to an outbreak of PRRS (porcine reproductive respiratory syndrome or blue ear disease). However the growth rate is below that of 2008 as a result of the slightly recovering production of pork of which broiler meat is a substitute. Broiler meat production increases were also credited to China's new law on corporate income tax effective January 1, 2008 exempting companies involved in animal or poultry rearing from paying income taxes. Domestic consumption is forecast to increase in 2009 by 8 per cent to 13.9 MMT, following 2008's estimated 12 per cent increase to 12.8 MMT.

Broiler meat imports in 2009 are expected to remain unchanged from 2008 levels, due to increased domestic production of broiler and pork meat, slowly recovering exports of cooked poultry meat to Japan, and higher import costs and decreased sales. Additionally, China reduced import tariff rates from June 1-December 31, 2008 to increase supply and alleviate high meat prices, however as soon as China's CPI decreases import tariff rates may return to normal levels.

Exports of Chinese broiler meat are projected to rise 5 per cent in 2009 to 288,000 MT, a slight recovery from the 23 per cent decrease in total exports in 2008. Exports of cooked broiler meat to Japan are expected to increase 2 per cent from the 33 per cent decrease felt in 2008. Japan is China's largest export market accounting for 61 per cent and 57 per cent in 2006 and 2007 respectively. In May 2008, Japan confirmed 35 eligible Chinese plants to export cooked meat from even-toed animals. At present, China has a total of 114 plants registered with Japan to export cooked meat of which 91 plants solely exports cooked poultry. Recently, China exported its first shipments of cooked poultry meat to the EU (European Union) after a 6 year ban had been lifted back in September 2008. However only 9 companies all located in Shandong were given approval to export cooked poultry meat products to the EU. The ban was originally placed on Chinese imports in 2002 for contamination with chloramphenicol (antibiotic) and for China's failure in its monitoring system for pesticide residue. All poultry meat imports were banned in 2004 following an outbreak of avian influenza.

Source: USDA FAS/news wires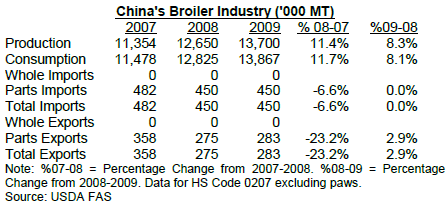 Note: All data is from January-December except 2008, which is January-October.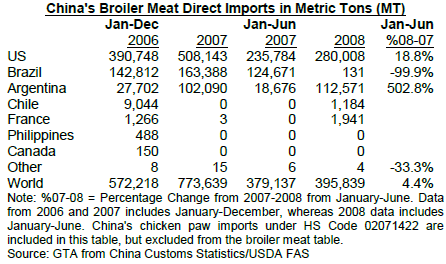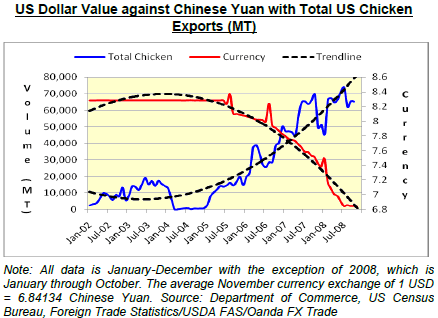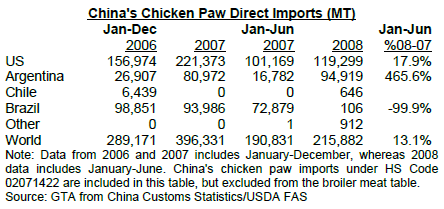 Further Reading