Hubbard Launches the Hubbard Yield
US - During the International Poultry Exhibition in Atlanta (28-30 January 2009) Hubbard will launch a new product for the broiler industry, the Hubbard Yield. The company says the new bird offers the optimum balance from breeder through to processing.
Over the last 2 years, the Hubbard Yield has been tested extensively by several leading producers in North America under the name 'H1', and gained a lot of recognition from its early beginning. Following the very positive feedback from numerous field trials, Hubbard decided to upgrade the 'H1' test product into a commercial product, thus making it an 'official' member of the Hubbard product range under the new product name 'Hubbard Yield'.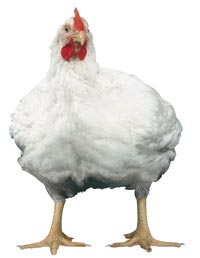 Hubbard Yield bird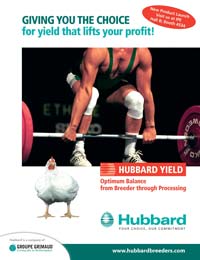 'Giving you the choice'
The Hubbard Yield is the only commercial breed available combining optimum hatching egg production with very competitive broiler results. Field results in North America have confirmed that:
the breeder produces around 161 hatching eggs and, when mated to the Hubbard M99 PS male, about 137 chicks per hen housed at 65 weeks of age. This is more hatching eggs and chicks than all current yield breeds available in the market
the broiler is competitive in live cost through very good growth rate, livability and feed conversion combined with good leg strength
the carcass yield, white meat yield and uniformity are all of a superior level.
The Hubbard Yield is mainly targeting the 'heavy weight' market (more than 6 lbs or 2.7 kg live weight for the big bird, de-bone and large whole bird markets) as well as the 'medium weight' market (5 lbs or 2.2 kg live weight for the tray-pack and cut-up markets).

The Hubbard Yield will be available from early 2009.