International Egg and Poultry Review
US - By the USDA's Agricultural Marketing Service (AMS). This is a weekly report looking at international developments concerning the poultry industry. This week's report focuses on the egg situation in the US.
US Egg Situation
Production
Year-over-year table egg flock numbers have been lower for the last 22 months. This trend is forecast to continue throughout the rest of 2008 and into 2009. It is also expected that the number of birds in the table egg flock will gradually increase in 2009 as lower energy costs and feed prices offer producers increased incentives to do so, however these lower costs will be offset by expected lower egg demand. The flock size at the beginning of November was reported at 280 million birds, which was down 5 million from the previous year. In October the table egg laying flock was estimated to be 278 million hens, down 1.9 per cent from a year ago. Table egg production has dropped over the last 7 quarters with the declining table egg flocks. Relatively higher prices have resulted from the decreased egg production.
Exports
Egg exports have been lower than a year ago. Exports of eggs during January through October of 2008 totaled 175.5 million dozen, down nearly 17 per cent (or 35 million dozen) from 2007 levels. The decline is mostly attributed to the generally stronger domestic egg prices in 2008. In October 2008, shipments of shell eggs and egg products were 13 per cent lower from the previous year totaling 17.9 million dozen. The decrease in egg and egg product exports is a result of declining shipments to Mexico and Hong Kong.
Source: USDA ERS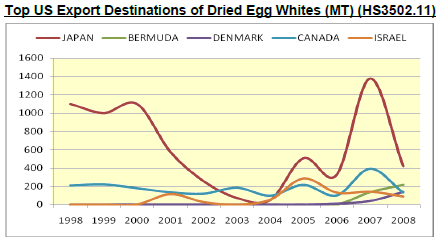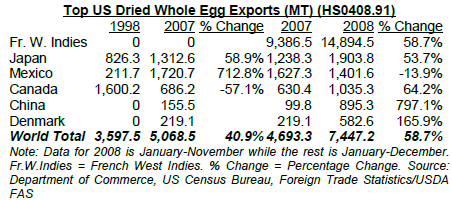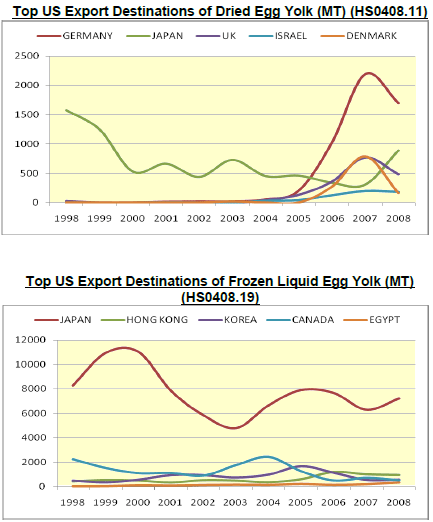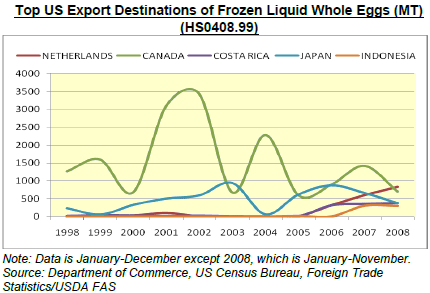 Leading US Table Egg Exports by Percentage (HS0407.0000.40)
Note: All data is from January-December except for 2008, which is January-November.
Source: Department of Commerce, US Census Bureau, Foreign Trade Statistics/USDA FAS
Further Reading