International Egg and Poultry Review
US - By the USDA's Agricultural Marketing Service (AMS). This is a weekly report looking at international developments concerning the poultry industry. This week's report focuses on the poultry situation in the US regarding the EU's restrictions.
US Files WTO Case Challenging EU Restrictions on US Poultry Exports
The US filed a complaint with the World Trade Organization (WTO) challenging EU's ban on the import and marketing of poultry meat and poultry meat products processed with pathogen reduction treatments (PRTs) judged safe by both the US and European food safety authorities. USTR Susan C. Schwab said "We have tried to address this issue through dialogue with the EU for more than eleven years, and neither the European Commission (EC) nor EU Member States have offered any legitimate, science-based reason for continuing to block our poultry."

The EU banned the use of PRTs for decontaminating poultry carcasses in 1997, but in March 2008 the European Food Safety Authority (EFSA) released an opinion that concluded there was insufficient evidence to conclude that PRTs used in the proposed conditions would lead to antimicrobial resistance. In May, 2008, the EC submitted a proposal to the Standing Committee on the Food Chain and Animal Health (SCoFCAH), to allow the use of four antimicrobials for use in processing chicken carcasses. The proposal was rejected almost unanimously. In December 2008 was submitted again, and all EU Member States except the United Kingdom which abstained, voted against the proposal.

At the time the ban went into effect in 1997 the EU consisted of 15 Member States. The EU currently has 27 Member States. In 1997 US poultry (HS 0207) exports totaled 2,473,128.4 metric tons. For the first 11 months in 2008 US poultry exports totaled 3,651,599.6 metric tons. US broiler exports in 2007 totaled 16 per cent of production.
Source: US Trade Representative press release; USDA Foreign Agricultural Service Attaché Report, USDA Economic Research Service; news wires
USAPEEC Hosts Banquet to Honor Chinese Poultry Traders
The USA Poultry & Egg Export Council (USAPEEC) hosted a reception dinner on 9 January, 2009 in Guangzhou in appreciation of the invaluable Chinese traders of US poultry products from around the country. Over 700 guests attended consisting of US poultry exporters and Chinese importers as well as USDA/FAS officials.

According the China Customs data for January to November 2008, China imported 761,610 tons of poultry products valued US$1.0 billion. The States sent over 555,703 tons valued US$738 million.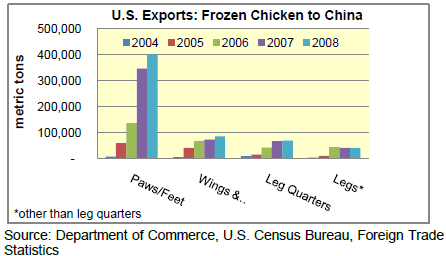 Most US products were chicken paws, followed by leg quarters and drumsticks, wingtips, chicken wings, turkey products and gizzards. Seventy percent of imported poultry cleared Guangdong ports such as Shenzhen port and Guangzhou port.

Insiders believe 2008 data reflects a large percentage of imported products still in stock because of recent low prices. Traders' lack of confidence in the 2009 market makes them hesitant to order big quantities for the rest of the year. According to interviewed Chinese importers, most (95-98 per cent) traders suffered 20-30 per cent profit losses in 2008. Chinese pork and poultry production increased in the second half of the year so imported poultry wholesale prices plummeted.
Current FOB prices (US$ per pound)
- Paws (small):
0.40-0.50
- Paws (large):
0.70
- Drumsticks:
0.50-0.5
- Leg Quarters:
0.28-0.38
Many traders rely on "import declaration companies" to import and clear customs on their behalf. There are 73 Chinese companies which have poultry import quotas appropriated by the Ministry of Commerce (MOFCOM) as a means to control competitively priced imports. However, it is said that only 40 actually use quotas to import for themselves or for others. The rest just sell their quotas at RMB200-250 (US$29-37) per ton to those without quotas. One trader said he was more concerned about getting enough quota than about price fluctuations. Outside of these 73, there are said to be 400-500 importers in China, 200 of which conduct business at Daluotang Wholesale Market in Guangzhou, the biggest for frozen poultry in China.

Brazilian, Argentine and European poultry products are smuggled into China via Vietnam. Rumors suggest 23 Brazilian plants are about to be allowed to enter China in 2009. In such case, US products will face strong competition because Brazilian products are preferred due to cheaper prices, equal amount of meat compared to American product, less moisture because of air blast freezing system in processing, and better appearance, thanks to lower labor costs that enable hand cutting. Argentine products - paws in particular - are less competitive because they tend to be bonier.

Brazil's Ministry of Agriculture was in China in December 2008 negotiating with the deputy minister of AQSIP of China to start importing chicken meat from Brazil. Chinese inspectors had authorized several Brazilian plants to export China, but Chinese traders were unable to get licenses. China had suspended imports from Brazil out of concern exports were originating from plants not registered by AQSIQ. Currently, only one Brazilian plant is eligible to export to China, but its export volume far exceeds its production ability. Brazil's manual cut and soldier layer packing of whole chicken wings are very competitive in the market industry.

Source: USDA/FAS Attaché Reports, new wires
Further Reading