Poultry Learning Resources Developing at CRC
AUSTRALIA - Julie Roberts of Poultry CRC is working with other partners to develop teaching materials for schools.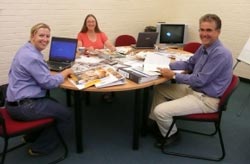 left to right: Farmgate Training's Susan Gleeson, Poultry CRC's Julie Roberts and training consultant, Michael Williams, at the Poultry CRC in Armidale
Poultry CRC Education Coordinator, Julie Roberts, teamed up with Farmgate Training's Susan Gleeson and poultry training consultant, Michael Williams, in early January to plan the development of a poultry-specific teacher resource for use by schools and other learning institutes. The initiative gained momentum following a national teachers' meeting held last November in Sydney, attended by the CRC.

"The idea is to compile stimulus material on a wide range of poultry topics, along with relevant activities," said Ms Gleeson. "We're developing a package intended to be used by teachers across a range of subjects, including science, agriculture and technology."

"The plan is to launch this package at the National Association of Agricultural Educators' conference in January next year," explained Mr Williams. "In the meantime, we'll be developing materials and trialling some of them at schools."

Due to the relatively low uptake of the successful WPSA Queensland Schools Project in other states, it was decided that a different approach was needed to ensure more traction on poultry-related education was achieved nationally.

"We want to produce a teacher's resource kit that supports the curriculum and encourages the teaching of poultry science in schools," said Ms Gleeson. "This resource kit will also function as a launching pad for the schools poultry projects run by World's Poultry Science Association and Australian Chicken Meat Federation."

Many of the resources are already listed on Poultry CRC's Poultry Hub in the recently revised Education and training section, including the Anatomy of the Chicken learning resource and several educational videos covering the various poultry production systems.