Chicken Waste Becomes a Valuable Commodity
GERMANY - Chicken waste from Cobb grandparent farms is being used to heat local homes, with fertiliser as a by-product, in an innovative new project in Saxony-Anhalt.
Chicken manure is being transformed into energy for local homes with a valuable fertilizer as a byproduct in a 'world first' plant built by Wimex / Gut Mennewitz at Baasdorf in the Saxony-Anhalt region of Germany.
Rooftop briefing for (from left) James Truscott and Jan Mascheck, of Cobb Germany, from project manager, Michael Meuer
Wimex, Europe's largest producer of broiler hatching eggs and owner of Cobb Germany, has developed the plant on the disused military airfield at Köthen where it has also constructed one of its latest Cobb grandparent farms, as featured in the last edition of Cobb Focus (click here).

The €10 million biogas / biomethane plant is believed the first in the world to run on 70 per cent chicken manure, with 20 per cent corn silage and 10 per cent grass silage making up the feedstock.

Standard biogas plants run predominantly on corn silage, so requiring a much greater area of land for producing the feedstock.

In addition, the Köthen plant provides an environmentally friendly way of disposing of chicken manure and returning nutrients to the land.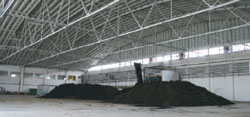 One of two giant hangars from the 1930s used to store chicken manure
View of the main complex from one of the camouflaged bunkers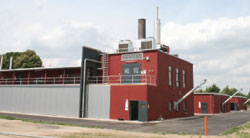 The main generating plant
Chicken manure is brought to the plant from farms within a 25-kilometre (16-mile) radius and stored in a giant hangar reputed to have been the largest single span building in Europe when it was constructed in the 1930s.

In a new process developed by Rückert Naturgas, the feedstock is mixed and diluted with water before it is fed into digesters where anaerobic fermentation produces methane and carbon dioxide over a two-stage process lasting up to 50 days.

The methane is fed into a combined heat and power plant where it powers three generators producing electricity and heat.

Meanwhile, the fermentation residue is separated into solid and liquid fractions in a 'decanter'. The solid is dried for use as compost. The liquid is separated through ultra-filtration and reverse osmosis with 25 per cent becoming concentrated liquid fertilizer, stored in huge underground reservoirs capable of holding six months' production before being returned to the land. The other 75 per cent process water is then re-used in further fermentation.

The plant has a capacity of 2.15 megawatts of electricity and 2.23 megawatts of heat per hour – enough to supply 4500 households and replace 1.8 million litres (475,000 gallons) of heating oil. The electricity goes into the public power grid, with the heat used in nearby chicken houses and office buildings.

In the future, the heat could also be used for an administrative building at Köthen and to dry corn for chicken feed. At full capacity the plant will use around 25,000 tonnes of chicken manure and 10,000 tonnes of maize and grass silage each year.

The process is also said to reduce methane emissions and odour from untreated chicken manure. The fermentation process destroys germs, pathogens and weed seeds found in chicken manure, and is also claimed to make the nutrients more accessible to plants.