New Flock of Poultry Farmers Receive Qualifications
UK - Twelve poultry farmers from the West Country have successfully made it through the 2 Sisters Grower Academy and been awarded NVQ qualifications.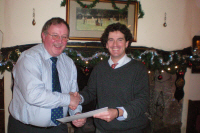 Charles Bourns (left) receives his NVQ from Andrew Maunder.
The 12, who all produce chicken for 2 Sisters Willand, have been working towards their qualifications for just over a year through an ongoing training collaboration between Hook 2 Sisters, the agricultural partner of 2 Sisters Food Group, and Duchy College which delivers the NVQ scheme.

Eleven of the growers received their NVQ3 qualifications, four of which were achieved as part of a new 'Advanced Apprenticeship' scheme which requires an NVQ3, Farm Technical Certificate, Key Skills (numeracy, literacy and IT), plus either ATV Quad Bike Handling or Telehandling.

"We're very proud of every 2 Sisters farmer who's achieved a qualification," says Andrew Maunder, commercial director of 2 Sisters Food Group.

"We're committed to supporting ongoing training as we believe professional and qualified farmers are essential to ensuring a quality product for us and our customers."

NFU poultry chairman Charles Bourns, who now produces indoor-reared Freedom Food birds for 2 Sisters Willand, was one of the 11 to receive an NVQ3.

"It was a really useful learning process, even for an old hand like me," said Mr Bourns.

"It's good to know first hand that formal qualifications like the NVQ scheme don't need to be daunting or burdensome for farmers or farm workers. Increasingly qualifications at this level will make compliance with ACP codes and the new broiler welfare directive much simpler. What's more the new Poultry Passport scheme will ensure these skills and qualifications are easily checked and transferable."

The Grower Academy run in the West Country by Hook 2 Sisters and Duchy College was started in 2004. To date more than 165 poultry farmers from the region have been through the Academy, which includes monthly classroom based sessions and field trips, to achieve a range of qualifications.

According to Duchy College the Government is currently very keen to help fund this kind of scheme, and the College can help most people access bursaries and funding to train at a reduced cost, especially those aged under 25 years old.