New Laboratory 'One of the World's Best'
BRAZIL - Cobb's new quality control laboratory, which opened last summer in Brazil, is one of the world's most sophisticated and modern laboratories in the industry.
Located at the company's complex in Guapiaçu, State of Sao Paulo, the laboratory provides fast and accurate results. Its design is based on ideas and concepts from many top laboratories in Brazil and abroad.

"This means strict biosecurity control and ensures the quality of every Cobb product that reaches the market," said Dr Leonardo Sestak, health and laboratory manager.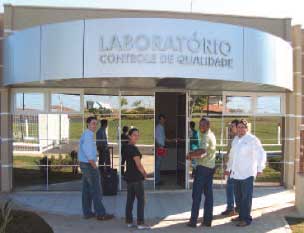 Entrance to the new laboratory (above); Guapiaçu laboratory team (below)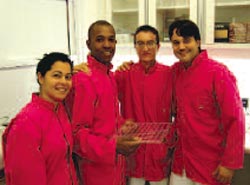 Time is a critical factor in detecting and solving problems. Even more so in a country that is the world's third largest poultry producer. Until now samples were sent to three different laboratories, but access to test results took a long time. Dr Sestak explained that a PCR test for mycoplasma took about ten days. Now, at the Cobb lab, test results are ready in two hours, in the case of Mycoplasma synoviae and Mycoplasma gallisepticum. "This is very important when we are dealing with pathogens such as mycoplasmas that can spread very fast," he said.

Biosecurity procedures begin at the lab's entrance. Depending on the room to be accessed, everyone must take a shower on entering and before leaving the lab. Proper, disinfected clothing is worn inside the unit, with the design and material meeting every biosecurity procedure required by the main regulatory agencies, such as MAPA.

There are also two pressurized rooms in the lab to prevent the return of air from other rooms and to prevent contamination, with the air monitored and controlled. Air expelled to the atmosphere is filtered, by negative pressure, using a HEPA filter, equipment able to remove 99.7 per cent of airborne particles.

"The Cobb laboratory was over des igned regarding biosecurity," explained Dr Sestak. "Modern techniques in bacteriology, serology, and molecular biology are used to provide fast, accurate and reliable diagnosis of salmonella and mycoplasma."

Five employees work in the lab from different departments at Cobb. They all participated in extensive training in Brazil and in the US and bring a diverse range of experience to one team.
Dr Leonardo Sestak, a veterinarian and the laboratory director, has experience working with all Cobb production operations and brings good relations with Ministry and Allied Industry Poultry Health officials.
Marcio Gereti, the laboratory assistant manager, is a microbiologist leading the molecular diagnostic area to enable the Cobb laboratory to be one of the few laboratories in Brazil to routinely utilize real-time PCR technology for the detection of salmonella and mycoplasma.
Patricia Santos, a technician, joins the lab team after working in the Guapiacu hatchery as a QA / vaccine application specialist.
Louis Perreiria, also a technician, joins the team from grand parent production work.
Anderson Silva, a third technician, brings milling and ingredient handling experience important in salmonella control.
The Brazilian facility complements other existing company laboratories located in Norfolk, UK, along with USA laboratories in Monticello, Kentucky, and the main laboratory in Siloam Springs, Arkansas.

The most recent shift from serology testing towards molecular based testing, relying on DNA and RNA identification of the organism, allows earlier recognition of diseases. "This testing has been responsible for stopping disease spread before it has a chance to infect additional flocks. The goal is to detect the organism at the lowest level possible to prevent spread," says Joe Schultz, director of laboratory services for Cobb.