Timberlake Farm Takes Shape
US - Clark Baird explains how Cobb's newest facility in the US is taking shape. Timberlake Farm was purchased a year ago and high priorities for its refurbishment were the highest biosecurity measures and energy-saving ideas.
With the rising demand for Cobb products, comes expansion - the latest being Timberlake Farm near Timpson, Texas, USA. Just down the road is the Cobb Timpson hatchery that produces parent breeding stock for broiler integrators in the US.

Purchased by Cobb last January, Timberlake had not been in operation for over three years. It had most recently been owned by an independent contract grower, but before that, actually belonged to Avian Farms – the company Cobb purchased in 2000. It was one of four company-owned facilities producing grandparent level breeders. Looking out over the farm, the outside walls of the houses still proudly display the Avian blue colours.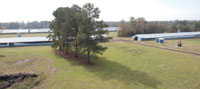 The expansive Timberlake Farm set among trees and fields (above) and solar panels being fitted for the hot water system (below)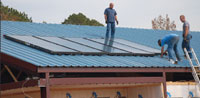 Timberlake farm sits on over 260 acres of land, mostly surrounded by two lakes as well as large parcels of trees and fields. These natural barriers are significant in reducing biosecurity risks.

So why did Cobb purchase Timberlake Farm? "To allow for expansion of our lines at the GGP level," says Dean Creasey, director of great grand parent (GGP) operations. "At the time, we had facilities at the GGP level in Georgia, Arkansas, Brazil and the UK.

"It was becoming very obvious that with the ever-increasing demand for Cobb products worldwide, another GGP facility was needed. Being located in Texas also spreads us out geographically, providing better supply chains in the event of a disease outbreak in another state."

Cole Vardeman was selected in March to manage Timberlake Farm. After hiring a crew, he immediately went into action and began restoration and building projects to bring the farm up to Cobb standards as a modern GGP farm. "A GGP facility has to have some features that differ from a commercial breeder farm," says Mr Vardeman.

"There is a changing room in every house. After going through a foot bath, boots are left in one zone and different boots are donned in another zone. In addition, there are concrete floors throughout - and at this farm, we have applied the cleanable, permanent foam to the inside walls. We also have a new truck wash building where any vehicle that must come into the farm is cleaned and sanitized.

"When we first arrived, the amount of brush and undergrowth was overwhelming. We started by clearing out much of the scrub brush and small saplings that were too close to the houses. I am proud of the people that were here from the beginning who worked in the hot August sun with tractors, chainsaws and machetes. They have put in hundreds of hours to build the farm from the ground up.

"We then had to replace about two miles of water and gas lines to ensure uninterrupted supply to all pullet and hen houses. Next, we had to pull out all of the old equipment such as feeders and drinkers, to make room for the way Cobb sets up a house. We underestimated just how many recycling containers we would need to haul off the scrap."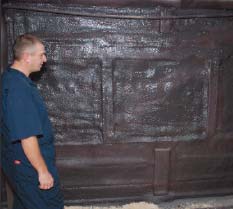 The washable foam lining which provides insulation and forms a complete seal (above) and refurbished pullet houses (below)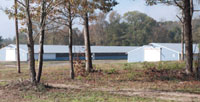 With 14 houses on the complex, a decision was made to begin with six rearing houses. All were completely gutted, re-fitted with new equipment, sanitized, and ready for chick placements in five months. There were similar treatments for two production houses, with new concrete floors, environmental controls, slats, nests, feeders, drinkers, belts and egg collection rooms. Almost all of the contract work performed on the farm comes from local suppliers in the Timpson- Shelby County area. The first pullets go into the laying houses in January, with the first GP placements from that flock to be ready by March.

All of the people working on the farm are trained constantly about the importance of bio-security. Mr Vardeman knows how critical it is to keep any kind of disease off the farm: "It's not something we go over in a classroom and then walk out the door and forget. We live it every second of every day and weigh every move against our biosecurity policies."

In addition to the chicken house renovation throughout the property, there is a new state-of-the-art office and shower facility. What makes this different? "We have installed a solar hot water system on the roof to capture the sun's energy to produce hot water for the showers, laundry and break areas," he says.

The system is so efficient that in summer, ground water will have to be blended in to keep the hot water from turning into steam. "Our facility in Brazil has been using systems like this for years and we feel like this is just one of the things we can do to conserve energy. In the end, we are all committed to conservation, recycling, and being a good neighbour."

"Another thing we are doing that is unique is applying a special foam insulation to the inside of all houses which not only keeps the temperature constant, but also seals off any leaks, and prevents unwanted pests from entering. Most people apply only the 2-pound foam to the lower 18 inches to seal up voids near the foundation. We applied a 2- and 10-pound foam to the entire inside wall, which makes the house much easier to clean. The material is so hard you can strike it with a hammer and it won't break. It also helps keep the environment constant, saving electricity and natural gas."

James Young, vice president of global operations, says that Dean Creasey, Cole Vardeman, and all of the people on the farm have done an outstanding job of completing this project.

"When all projects are complete, this $7.5 million investment providing nine rearing houses and eight production houses will produce enough grandparent stock in a year to keep up with our customers' demands.

"The demand for Cobb products is so great that we are not only expanding in Texas, but in Georgia as well."

There are plans for Eagle Grove Farm, near Hartwell, Georgia, to have expanded capacity over the next 12 months.