Verrey Joins Hubbard's Middle East Sales Team
FRANCE - Hubbard has announced that Thomas Verrey has joined its sales team.
Hubbard S.A.S. is very pleased to announce that Thomas Verrey joined the Hubbard Sales team at the end of September 2008.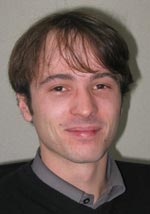 Thomas Verrey
This appointment is part of Hubbard's strategy to continue to strengthen and to further develop its strong market position in the Middle East.

After an intense training period within Hubbard, Mr Verrey will now gradually take responsibility of some countries in the Middle East, such as the Kingdom of Saudi Arabia, Yemen and Kuwait.

He has a degree in agronomics and since his graduation, he has been working as technical salesman with Evialis and Nutrea. He will remain to be based in France and report to Jean-François Hamon, the Business Director for the area.