WHO Updates on Situation in China, Human Victims
GLOBAL - The World Health Organisation (WHO) has published a fourth update on the situation in China regarding human cases of H5N1 highly pathogenic avian influenza (HPAI). The latest victim is a young woman from Hunan province, bringing the total number of cases so far this year to nine.
The Ministry of Health in China has announced a new confirmed human cases of H5N1 infection. The case is a 21-year-old female from Xupu County, Hunan province. She had onset of symptoms on 23 January and remains in hospital in a clinically stable condition. Investigations into the source of her infection indicate possible exposure to sick and dead poultry.

Of the 38 cases confirmed to date in China, 25 have been fatal.

WHO has published the latest statistics for the cumulative number of confirmed human cases of H5N1 avian influenza A reported.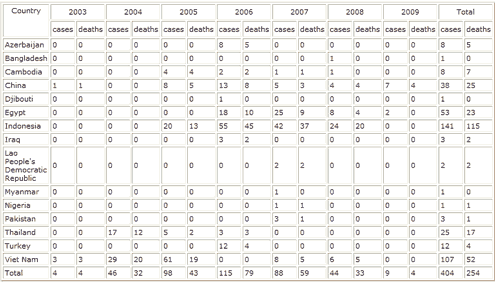 Cumulative number of confirmed human cases of avian influenza A/(H5N1)
Source: WHO
Total number of cases includes number of deaths
WHO reports only laboratory-confirmed cases
All dates refer to onset of illness
Further Reading