CME: Impact of Recession on Meat Exports Mixed
US - CME's Daily Livestock Report for 16 March 2009.
The impact of the global economic recession on US meat exports so far has been mixed. Beef shipments have slowed down but remain above year ago levels in large part due to access to the Korean market, which was not available last year. Pork exports are down but not as much as previously thought, in part due to strong growth in shipments to Japan and Mexico. And in a sign that the shit to less expensive meat protein is a global phenomena, US broiler exports are booming. Below is a recap of the highlights from the latest export data.

US pork exports in January were 322.7 million pounds, 8.7 per cent lower than a year ago but 33.7 per cent higher than the 2004-08 average. As the chart shows, the decline in shipments was for the most part due to sharp reductions in exports to the Chinese and Russian markets. On the other hand, exports to Mexico continued to post very strong growth and helped offset some of the declines in other markets.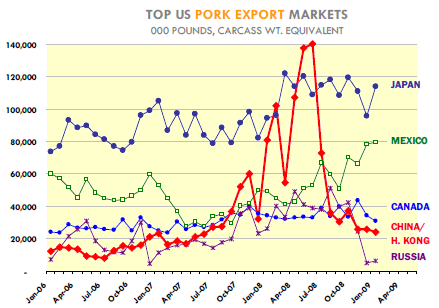 January exports to Japan were 114 million pounds, 20.9 per cent higher than a year ago and 37 per cent higher than the five year average. Exports to Mexico were 79.7 million pounds, 62.8 per cent higher than a year ago and a new all time monthly export volume to this market. The increase in US pork exports to Mexico is even more impressive considering the sharp depreciation in the value of the Peso vs. the US currency. In part, we think the rise in US pork purchases reflects the rise in demand for less expensive meat products but also the decline in domestic pork supplies in the Mexican market. Exports to China, a booming market for US pork in 2008, are now back to long term trend levels. January exports to China/Hong Kong were 24.3 million pounds, 70 per cent lower than a year ago. Exports to Russia have for the most part disappeared. Exports to this market in January were just 6.5 million pounds, a quarter of what they were a year ago and a fraction of the 50+ million shipped to this market back in August.

Beef exports in January fared better than pork but total volume was lower than the levels we saw last summer. Total beef exports for the month were 128.6 million pounds, up 8.2 per cent compared to a year ago. Exports to Mexico at 45.6 million pounds were down 9.9 per cent while shipments to Canada at 20.9 million pounds declined 30 per cent from last year.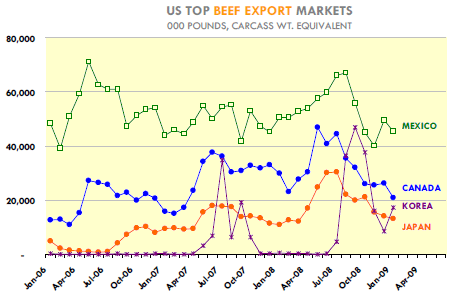 As for broiler exports, total shipments in January were reported at 607.8 million pounds, 33.4 per cent higher than a year ago. Broiler exports recovered in January in large part due to strong exports to the Russians.