Joint Sponsorship of CPC School Announced
EGYPT - Arbor Acres, one of Aviagen's key brands, is delighted to become an official sponsor of the already well-established CPC School in Egypt.
This further demonstrates Aviagen's support to their valued distributor MPG and the Egyptian poultry industry. From now on, the event will officially be known as the Arbor Acres - CPC School.

This year's event, the 12th CPC School, was held at the Red Sea resort of Hurghada from 28 February to 5 March 2009. Dr. Alla Abdou, the course administrator, welcomed 30 young students from leading Egyptian poultry companies to the week-long course, where they were addressed by local poultry experts and the Arbor Acres technical team, who focussed on a wide range of topics related to poultry management.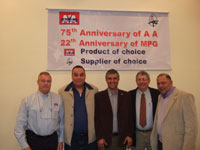 MPG and Arbor Acres team
Puzant Dakessian, Arbor Acres International Technical Services Manager, commented: "This is a school of international standards in terms of the meticulous planning and organisation, selected professional speakers with both theoretical and hands-on experience and finally the full range of poultry subjects it covers in 5 days of intensive lessons. The reputation and success of this school is spreading quickly within the neighboring Arab countries and more and more participants from outwith Egypt are attending the course year after year as was the case this time."

Twenty two years ago Misr Poultry Grandparents (MPG) became the first customer to place Arbor Acres grandparent stock in the Middle East territories. During these years, MPG has been the local driving force in establishing Arbor Acres as the market leader in Egypt. The introduction of the Arbor Acres Plus several years ago has certainly positioned Arbor Acres Plus as product of choice to the Egyptian broiler industry with MPG recognised as a supplier of choice.

Through the Arbor Acres brand Aviagen is not only committed to providing their grandparent partners with genetic excellence but a package of technical and marketing support unmatched in our industry.

Stanley Millar, AA Commercial manager for the Middle East and Africa, praised the leadership role of the CPC group in the Egyptian industry in raising performance through technical transfer and particularly in targeting young managers who, in the coming years, will play a leading role within the Egyptian poultry industry.

Eng Atef Hassan - Managing Director of MPG commented: "Aviagen, through the Arbor Acres brand, has become a truly dependable partner and our joint venture in the CPC school is another example of the ever increasing cooperation and the dedication of both parties to service our customers in Egypt."