Pas Reform do Brasil Opens New Site
BRAZIL - Just months after a landmark agreement to produce Pas Reform's complete range of hatchery equipment and technologies in Brazil, Pas Reform do Brasil has opened its new sales and manufacturing site at Rio Claro, São Paulo.
The new venture, partnered by José Antonio Campos Fracasso, president of Hygen Genética Avícola Ltda., sees the manufacture of Pas Reform's full suite of Hatchery Technologies outside The Netherlands for the first time in the company's 90-year history.

"Pas Reform's commitment to the Brazilian hatchery industry is very strong and long-standing," says Bart Aangenendt, CEO of Pas Reform Hatchery Technologies, "and the industry here demands high-quality technologies, to fuel what is forecast to be massive expansion over the next couple of decades. Brazil was a natural choice for this landmark development – and timing could not be better, in this our 90th Anniversary year."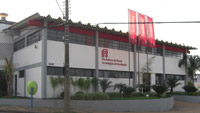 Like its sister-operation in the Netherlands, Pas Reform do Brasil includes an 'Inspiration Centre', which is open to customers and has been created to represent a model hatchery setting.

The Inspiration Centre is fully operational, showcasing the full working of a complete hatchery system for customers – with incubators, setters, hatchers, hatchery automation systems and hatchery climate control, HVAC ventilation, chillers and boilers, for example – as well as demonstrating new and emerging hatchery technologies.

To arrange a visit to Pas Reform do Brasil, or for enquiries or further information, please contact Thomas Abdo Calil ([email protected]).