Ross 708 in Focus in Europe
EU - Aviagen, the world's leading poultry breeding company, recently held a seminar in Amsterdam for their Ross 708 customers. The focus of the seminar was managing the Ross 708 in Europe and the event was attended by delegates from 15 countries across the region.
The seminar was organised in response to the growing popularity of the Ross 708 in the region and delegates were provided with information on Ross 708 parent stock and broiler management, hatchability and incubation and nutrition. The presentations were given by members of Aviagen's European Technical Team who work with the product on a daily basis and therefore have in-depth experience of best management practices.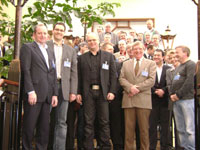 Dave Watts, Aviagen's Regional Technical Manager, said: "While the Ross 708 is still fairly new to Europe, it is firmly established as the global market leader in the high-yield sector. The purpose of the seminar was to update our customers on the latest management advice to help them achieve the best possible returns from their product. The Ross 708 requires subtly different management techniques to the Ross 308 and this seminar highlighted areas on which customers should focus."

Otto van Tuijl, Technical Director, Ross-EPI, added: "The event was very well received by our customers and feed-back has been excellent. The Ross 708 is a proven performer in integrated markets. The seminar provided a great forum for all delegates to share experiences of the product and take away invaluable advice and tips for further improving performance."

Mario Pavone, Breeder Manager, Amadori, Italy commented: "The seminar was an excellent opportunity to share experiences and data with other producers and helped us in focussing and addressing the issues we are dealing with in the field. The Ross 708 is a very successful product in the Italian market due to its excellent balance between PS and broiler performance."