CME: Reduced Ouput Levels for Meat and Poultry
US - CME's Daily Livestock Report for 3 April 2009.
US meat and poultry producers continue to reduce output levels without seeing consistent positive impacts on wholesale or farm-level prices. Lower beef and cattle prices on lower cattle slaughter and beef production and lower chicken prices on lower broiler slaughter and production are both becoming all-to-familiar tales — and ones that the sector would like to stop hearing.

Hog prices rose this week on 2.9 per cent lower slaughter and turkey prices fell on 10 per cent on 2 per cent higher slaughter — negative relationships that would be expected. But pork cutout values remained below year-ago levels suggesting that packers squeezed gross margins again.

These species-by-species comparisons, however, are not nearly as impressive as considering the levels and changes in the supply of all meats and poultry as a group. Figure 1 shows data for 2008, 2009 and the 2003-2007 average for weekly US total meat and poultry production. After spending virtually all of 2008 between 2.0 and 2.1 billion pounds, total weekly meat and poultry output has trended lower since early January. The measure did break a three-week downtrend the week of March 27 (the last week for which poultry data are currently available) but the increase was only 6 million pounds, taking the total to 1.916 billion pounds on a carcass/RTC weight basis.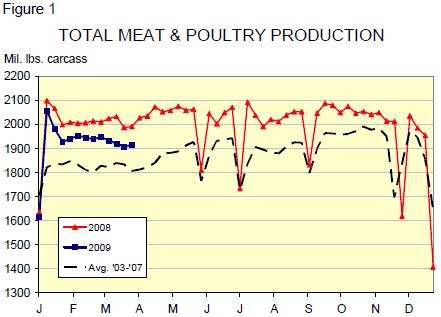 The year-over-year declines in meat and poultry output are even more impressive. The week of 3/15 saw a decline of 112 million pounds versus last year while the last two weeks' production has been 78 and 76 million pounds less than last year, respectively.

To put these reductions into a longer-term perspective, consider Figure 2 on which shows the 6-week moving average of the year-on- year change in weekly total meat and poultry production. We use the moving average simply to smooth an otherwise very erratic data series. As can be seen, the reductions at the end of 2008 and thus far in 2009 have been historically large. Their size is magnified by the fact that they follow historically large year-on-year output increases in 2007.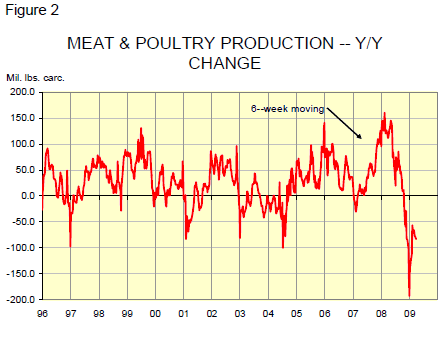 So, does the fact that these reductions occurred in 2008 and, now, 2009 mean they have more to do with the economic downturn than they do with higher feed costs that commenced in the fall of 2007? We suppose that is possible but it is not likely. Higher feed costs were the original catalyst for output reductions but executing those reductions in the livestock business takes time. By the time producers got started reducing breeding herds and flocks, the economic downturn and credit crisis simply added fuel to the fire — and don't expect that fire to be extinguished any time soon. Lower cattle on feed numbers are just now impacting fed cattle supplies. Higher beef cow slaughter in 2008 will not impact calf supplies until later this year and next. Lower sow numbers have largely been offset by productivity gains so far and lower broiler breeding flock numbers will keep egg sets, chick placements and, ultimately, broiler slaughter lower for the foreseeable future.