CME: Slumping Sales Cause Cut Back on Production
US - US - CME's Daily Livestock Report for 7 April 2009.
Slumping sales, both in the domestic and export markets, have caused US beef, pork and poultry producers to cut back meat protein production.

Because of the lags inherent in the livestock industry, the current declines only partly reflect the results of the recession. Beef and pork producers have been reducing the breeding herds for some time following ever rising feed costs and the resulting margin squeeze.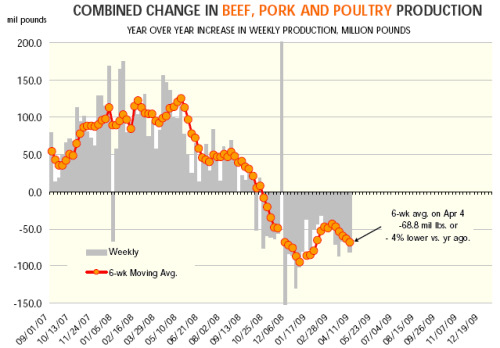 We are only now starting to see the results of those efforts. Broiler producers also were negatively impacted by the surge in feed costs but the collapse in credit markets last fall proved to be the proverbial last straw, leading the largest broiler producer in bankruptcy and causing others to take notice.

So far the reductions in output have been significant but clearly not sufficient to bring a profit back in the business. Even more cutbacks are expected. For the week ending April 4, we estimate that total beef, pork and poultry production was a combined 1.640 billion pounds, 82 million pounds or 4.8 per cent lower than a year ago. In the past six weeks, combined red meat and poultry production has been on average 69 million pounds or 4 per cent lower than the comparable period a year ago.

We say this is an estimate as the USDA poultry numbers for last week are not yet available but we do have some indication on the number of birds slaughtered. All four species are currently registering year over year declines. Because broiler production accounts for almost 40 per cent of overall meat output, reductions there tend to have a disproportionate effect on the entire complex. Broiler slaughter last week was reported to be 154.7 million head, 7 per cent lower than a year ago and in line with the chick placement numbers from a few weeks ago. Moreover, current bird weights are running below last year's levels and we estimate that total chicken production last week was down 8 per cent from a year ago.

The decline in broiler production accounted for about 65 per cent of the overall decline in meat production last week. Pork production last week was down 4.6 per cent compared to a year ago and accounted for another 21 per cent of the decline in meat supplies. Turkey producers also find themselves in dire straits as efforts to cut production have yet to show up in higher prices for turkey breast meat.

Overall, the supply cutbacks have been necessary to offset the impact of 'panicked demand' both here and in export markets. And since it will take time to replace the lost production capacity, a demand resurgence could get prices spiking again.