Cobb Europe Grows with New Facilities
EU - New research and production facilities form the basis for growth of Cobb Europe.
The acquisition of Hybro and restructuring of Cobb Ireland expand the production facilities for Cobb parent stock in Europe, and provide a major research complex in the Netherlands.

The former Hendrix Genetics pedigree farm at Herveld is now part of Cobb's global research programme, working in parallel with research and development in the United States. It was established as a state-of-the-art facility with rearing, production and hatching on site and was one of the earliest to test and install a filtered air positive pressure system to screen out micro-organisms as part of its modernised biosecurity precautions.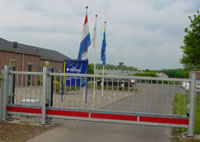 The Herveld farm in the Netherlands now part of Cobb's research and development programme
"The Hybro acquisition gives us some excellent facilities that will considerably expand our own production base to more than 10 million parents a year and help in developing new products," says Steve Parsons, managing director of Cobb Europe.

The overall capacity has now more than doubled between the company and distributors – Cobb Germany supplying central and eastern Europe, Cobb Spain serving the Iberian area and north Africa and Cobb Sweden serving Scandinavia.

Gosse Veninga, who is responsible for the Herveld R & D team, works closely with Cobb geneticist, Dr Mark Cooper, who heads the Cobb research programme in Europe.

In the Netherlands, Cobb has taken over nine rearing farms and 14 production units, and will be using two hatcheries for parent stock production. The van Gent hatchery at Veenendaal, producing five million parents a year, has been supplying chicks to Cobb customers for almost 20 years, developing an outstanding reputation for quality and reliability. The hatchery at Putten, owned and managed by John Torsius, has a similar capacity and complements the van Gent hatchery with similar equipment and identical quality standards.

In addition to the main supply base for grandparent generation stock in the UK, there is a smaller grandparent hatchery at Warder, run by the Beunder family, which is located conveniently close to Schiphol Airport, Amsterdam, for shipment to customers around the globe.

Within the Netherlands, the production team is headed by manager, Nico Kooter, a member of the team for 37 years.

"Nico's wealth of experience within pedigree breeding and the supply chain are invaluable to managing both parts of the business," says John Vincent, Cobb Europe production director.

Cobb Europe also now has a parent stock production centre in Eire, taking over the seven production and rearing farms within the breeding operations of Cobb Ireland. Mr Vincent is in charge of overall management and works closely with Cobb Ireland owner, Dan Lenihan, who has a 45-year association with the Cobb breed.

"The combination of the Hybro acquisition and the continued association with the Irish production centre fits perfectly with our business strategy," adds Mr Vincent. "The increased capacity affords a significant increase in security of supply chain through to our customers while maintaining the highest quality standards and consistent delivery of genetic improvements to our expanding customer base."