Free-Range Fast Food
UK - Free-range egg company, Happy Egg, is to start supplying fast-food chain, Little Chef.
As part of an on-going commitment to responsible farming Little Chef has linked up with ethical egg producer, the happy egg co., for its supply of free-range eggs.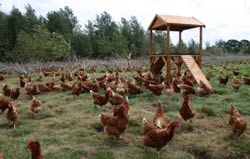 Free-range hens at happy egg co.
From April, in a first for the happy egg co. which has only previously been available in the retail sector, Happy Eggs will be used across the entire Little Chef menu to enable customers to savour the delights of eggs laid by hens that enjoy only the highest standards of animal welfare.

The initiative between Little Chef and the happy egg co. is supported by a wide range of activities. Little Chef, which switched to free-range eggs two years ago, has developed bespoke Easter games, including fun place-mats, for families to play across its 175-strong restaurant estate and launched the 'Everyone's a Winner' scratch-card competition, with two million prizes being given away including the ultimate prize of a unique £3,000 Golden Egg.

From 10 April, the happy egg co. will include a Little Chef voucher offering a free starter or dessert with every main meal inside every box of Happy Eggs sold in all major supermarkets.

Happy Eggs aims to go above and beyond the standards required for free range: all Happy Egg farms have plenty of green pasture and equipment to offer an assortment of activities to enhance the birds' natural surroundings – from perching platforms to sand-pits, swings and brashings. A special team of 'fieldsmen' (experts in hen husbandry) also make regular visits to the farms.

Says the happy egg co. Head of Marketing, Rob Newell: "We are delighted to have teamed up with Little Chef – arguably one of Britain's most iconic brands – to enable diners to enjoy great tasting eggs laid by the happiest hens. It is a fantastic opportunity to demonstrate that Happy Eggs are not just the best choice for the hens but also the breakfast plate!"

Lindsay Howard, Marketing Director of Little Chef, said: "April is one of Little Chef's busiest times so it is great that we can offer our customers a guilt-free Easter with eggs produced by hens that live the life of Riley. We are proud to use quality ingredients and stock brands that champion food and family values and the happy egg co. is therefore a perfect fit with our brand."

Happy Eggs have been served in all Little Chef restaurants since 1 April for a limited three-month period. the happy egg co. eggs are also available from Co-op, Tesco, Asda, Somerfield and Morrisons and cost from £1.58 for six medium eggs.