International Egg and Poultry Review
US - By the USDA's Agricultural Marketing Service (AMS). This is a weekly report looking at international developments concerning the poultry industry. This week's report is about the poultry situation in the Ukraine.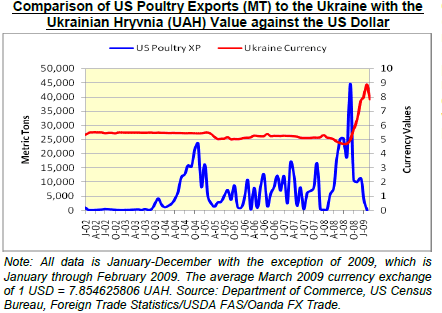 Ukraine
On 24 March 2009 the Ukrainian Customs Service, citing the Cabinet of Ministers Resolution as legal grounds for this action, canceled the temporary 13 per cent increase in customs duties on beef, pork, offal, poultry products, processed beef and pork, raw sugar, grape wine, and fermented beverages by adopting the official Letter #11/1-10.21/2619EP. The additional duty was introduced by Parliament (Law #923-VI) in hopes of fixing the balance of payments problem (effective 24 February 2009). However the additional 13 per cent duty violated Ukraine's obligation to the WTO and did not include imports from countries Ukraine had Free Trade Agreements with.

The cancelation came after a month of increased smuggling and unfavorable reactions from the international marketplace, Ukrainian consumers, and the mass media coupled with the import drop and UAH 35-44 million loss in elastic demand as a result, completely offsetting the UAH 28 million in revenue on the commodities subjected to the additional 13 per cent import duty. Despite existing legal issues regarding the authority and validity of the cancelation, the import duty has been decreased and as of 25 May 2009 the duty was to be changed to the WTO-agreed level. However since this decision President Yushchenko has recently called for the reintroduction of the additional 13 per cent import duty on agricultural products citing Ukraine's need to support its own domestic commodity production.

A review was done of all proteins to reflect the new economic developments (i.e. world economic crisis; employment collapse; UAH currency devaluation; decreased purchasing power, consumption, and red meat and poultry imports; etc.) and estimates changed. Expected import volumes and consumption of meat were decreased, though poultry will suffer the least. Sizable imports of poultry over the summer months are not expected to repeat in 2009 and trade throughout the rest of 2009 is only expected to rebound to 2005-06 levels; however trade will continue to concentrate in low-cost segments. Domestic poultry production was reduced as well.

Total US Broiler Meat Export Percentage Break Out of Leg Quarters and Other Chicken Items by Volume to the Ukraine
Note: LQ = Leg Quarters. Other = Other Chicken Meat Exports excluding Leg Quarters.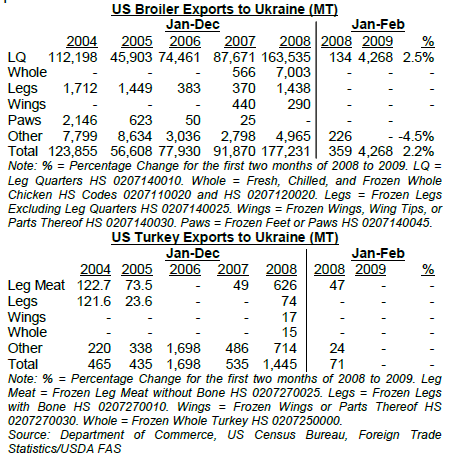 Avian Influenza Update
China's Ministry of Agriculture confirmed a new outbreak of highly pathogenic avian influenza (HPAI) H5N1 19 April 2009 at a live chicken market in Cheng'guan County in the province of Tibet. There were 1,500 cases, 1,500 deaths, and 1,679 birds were destroyed. Control measures are being taken. On 6 April 2009 the OIE and USDA APHIS received confirmation of an outbreak of low pathogenic avian influenza (LPAI) H7N9 in Grayson County, Kentucky at a commercial broiler breeder operation with 20,000 birds at 49 weeks old. All 20,000 birds were destroyed and control measures are being taken. Upon confirmation, poultry from the state of Kentucky was banned by about 8 countries. Germany confirmed an outbreak of LPAI subtype H7 in the district of Kleve 3 April 2009. About 17,000 turkeys were to be culled and further precautionary measures taken. Laboratory results with the full identity of the pathogen and confirmation of its alleged low pathogenicity are expected soon. H7 of either high or low pathogenicity is an OIE-notifiable virus.

Source: OIE/Promed/International Society for Infectious Diseases
Further Reading