Success for Al Jazeera-Hubbard Poultry School
JORDAN - The second Al Jazeera-Hubbard Poultry School was another success.
Al Jazeera Poultry Grandparents, distributor of the Hubbard Classic, and Hubbard organised the second Al Jazeera-Hubbard Poultry School in Amman on 17 and 18 February 2009. The many attendees were not just only from Jordan but also from Kuwait, Saudi Arabia, Yemen, Iraq and Sudan.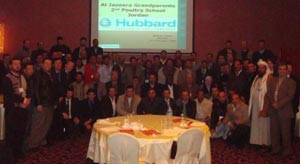 The companies Ceva, Intervet and Provimi also supported this event, which has already gained a reputation for the high quality of its presentations since its first edition at the end of 2007.

The international speakers addressed many important subjects on nutrition, breeder male and female management, hot weather management and several veterinary topics to improve the technical results and to protect poultry from infections and diseases.

At the end of the two-day seminar, Eng. Abdel Nasser Al Husseini, President of the Al Jazeera group, presented a certificate of completion to all attendees and a prize to the best top three attendees. The company with the best flock results and the largest customer were also rewarded for their achievements.