Aviagen's Central, Eastern European Seminar Well Received
SLOVENIA - Effective management techniques were at the top of the agenda at Aviagen's successful Central and Eastern European Seminar recently.
Ross customers from across Central and Eastern Europe gathered in Ptuj, Slovenia on 5 to 7 May for the fourth annual regional Seminar organised by Aviagen Kft. The team used this platform to share the exciting expansion plans for the region and to pass on plenty of hands-on management advice to enable customers to realise the full potential of their Ross stock.

The event has become an important fixture in the poultry calendar with over 130 attendees, including, for the first time, guests from the Ukraine. The seminar provided an excellent forum to discuss the latest developments within the industry, to take part in practical workshops and meet the complete Aviagen Kft team. The team in the region is continuing to be enhanced and the recent appointment of Leonardo Linares has given additional nutritional support available to customers in the region. Leonardo was one of the speakers at the event and enjoyed meeting his customers.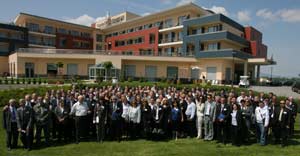 Maximising best performance from their Ross stock was a key theme of the two-day event, which is part of an on-going seminar support programme. Speakers gave updates and practical demonstrations on new research and best practice in areas ranging from cost-effective broiler nutrition through to ventilation, vaccination and male management.

Over the two days, delegates listened to no less than fourteen different speakers – Aviagen Kft personnel, local representatives and Aviagen specialists including: Barry Thorp, a consultant veterinarian who spoke about the new European Broiler Directive, which was a topical subject for the delegates. He also gave a very interesting and helpful presentation on infectious bronchitis. Akos Klausz, the veterinarian for the region, supported Barry's messages by giving delegates practical and sound advice on vaccination storage and techniques.

Tyark Osterndorff, Business Development Manager, said: "Despite the challenging global climate around us, the poultry industry is continuing to perform well. To support our customers, we are continuing to invest in our infrastructure to provide high-quality products, delivered quickly and efficiently.

But this is only half of the equation. Stock management is a huge part of the process and events like these, alongside our ongoing on-the-ground technical and veterinary support are key for sharing best practice and stimulating debate."

Jonny Harrison, Regional Technical Manager, added: "The presentations were relevant, timely and topical, exactly what the customers wanted to hear and discuss. At Aviagen Kft we are working hard to support our customers in whatever way we can and are always looking at new ways to share information. Events such as this are an invaluable part of this technical service program and often highlight interesting angles which can then be reflected back into the support packages which we offer.

This seminar has received lots of positive feed-back from attendees and we are delighted with the success, which, in no small measure, is thanks to Perutnina Ptuj's help in arranging a wonderful event in their home city. We look forward to working with other customers in their native countries to organise future events like this one."

As well as the two-day conference, the delegates also enjoyed a number of social activities, including a trip to Perutnina Ptuj's wine cellar.

Pavel Hojgr, Director of Xavergen a.s. from Czech said: "Meeting away from the everyday working environment gives people the chance to mix with other Ross customers and the Aviagen Team and discuss aspects of our work in an informal manner. This Seminar was the best yet focusing on topics which are relevant to us in our region and we particularly enjoyed the practical and social events."

Slavko Visenjak, Perutnina Ptuj's Executive director for Poultry Production added: "We are very proud that Aviagen's Central and Eastern European Seminar was held in Ptuj. The presentations were excellent, the topics very relevant and the event provided a great opportunity to receive new ideas about production and management. We enjoy our close cooperation with Aviagen and are delighted to have played a part in a very successful event."