CME: Broiler Product:Feed Ratio Recovered in 2008
US - According to CME's Daily Livestock Report for 21 May 2009, USDA will release four important monthly reports on Friday — Cold Storage, Cattle on Feed, Livestock Slaughter and Chickens and Eggs.
Rising cash and futures prices for corn and soybean meal and soft—or, at best, sideways—prices for meat and milk have kept priceto- feed ratios near all-time lows. The chart below shows these ratios for hogs, fed cattle, broilers and milk. These are measures of profitability that have long been used to predict expansion or contraction of breeding herds and thus production in some future time period.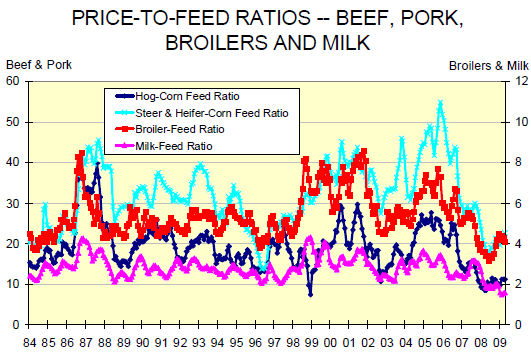 Note that beef and pork are read off the left axis while the others are read off the right axis. Also, the beef and pork ratios are the price per hundred pounds (ie. cwt. or "centi-weight") of live animal divided by the price of one bushel of corn. The milk ratio is the price of milk divided by the cost of a 16 per cent crude protein dairy feed that would include 51 per cent corn and 41 per cent alfalfa hay. The broiler ratio is the price of one pound of live-weight broiler divided by the price of one pound of broiler feed that is 58% corn and 33 per cent soybean meal. A few takeaways for this chart are:
There is little wonder why dairy producers are looking to reduce the size of the dairy herd. The milk:feed ratio was record low at 1.57 in March and improved only slightly in April, the last observation in this chart. Prior to April '08, the record low for this measure was 2.06 back in May 1996 when corn prices exploded. The milk price:feed ration has not been above that previous record low since April 2008.


The hog:corn ratio has been below 18 since December 2006. That level has long been a signal for producers to contract. The contraction began one year after the ratio dropped below 18, a pretty normal time lag. But the contraction since then has amounted to only 3.6 per cent of the December 2007 breeding herd and much of the breeding herd reduction has been replaced by productivity gains. Higher feed prices have more than offset any price gains and that includes August '08's record prices.


The fed cattle price:corn ratio has been lower than its levels of '08 and '09 only once—during the feed price run-up of 1995-96 and the cyclical price low for the cycle that ran from 1985 to 1996. While fed cattle prices have been disappointing, we must remember that current prices would have been records before the 2003 BSE discover in Canada.


And that brings us to broilers, whose product:feed ratio recovered in 2008 but has hit the skids as corn and, more important for broilers than any other species, soybean meal prices have risen in recent weeks.