CME: Corn Plantings Slow in Illinois and Indiana
US - CME's Daily Livestock Report for 4 April 2009.
As panic over the H1N1 influenza subsides, the market is turning its focus to other factors and, primary among them, is the outlook for the US corn and soybean crops this summer and fall. Heavy rainfall across the eastern part of US corn belt last week (please refer to the chart below) slowed down corn and soybean plantings.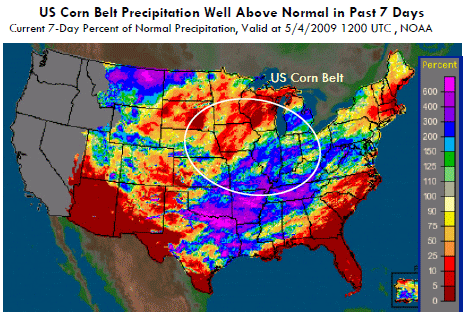 On Monday afternoon, USDA reported the results of its latest planting progress survey, which showed that for the week ending 3 May, US farmers had planted only 33 per cent of the US corn crop, still ahead of last year's very slow pace but behind the 50 per cent five year average for the week. Plantings remain especially slow in Illinois and Indiana, which according to the March survey account for about 21 per cent of corn acres. As of 3 May, only 5 per cent of the corn crop in Illinois had been planted, compared to 25 per cent last year and 66 per cent for the five year average.

Just 5 per cent of the crop had also been planted in Indiana, compared to 32 per cent last year and 47 per cent for the five year average. Plantings in Iowa, on the other hand, seem to be progressing well, with 60 per cent of the crop planted, compared to just 16 per cent a year ago and 53 per cent for the five year average. Overall, the slower pace of plantings may add to the current bullishness in the grain complex, especially following the surge in soybean and wheat values in recent days.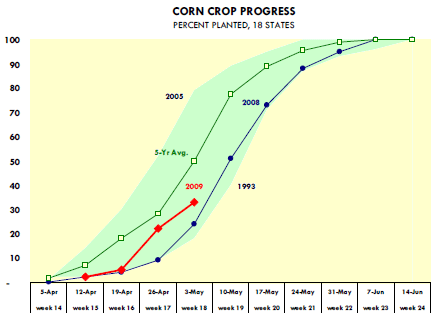 The market clearly is seeking to factor in the improvement in sentiment regarding the outlook for the US and global economy later this year and in 2010 as well as the potential impact that this could have on commodities. USDA will release its first official estimates for the 2009/10 marketing year on 12 May, which will likely highlight the possibility for tighter corn and soybean stocks. This expectation has boosted futures prices for both soybeans and corn. Soybeans remain the leader at the moment, supported in part also by reports of a smaller crop in South America. July bean futures have gained about 30 per cent since early March and summer soy meal futures are currently priced at almost $345 per ton, some $85 higher than only two months ago. This is especially negative for poultry and hog producers that are faced with relatively low prices for their products.

Broiler producers have benefited from better prices for some items but have yet to see a significant improvement in the price of chicken breasts. As for hog producers, the increase in feed costs comes at a time when prices for lean hogs have collapsed following the influenza panic and lost sales in both the domestic and world markets. Meat supplies are tight today and may become even tighter as producers look for a margin.