CME: Too Much Emphasis Laid on Corn Planting Dates
US - According to CME's Daily Livestock Report for 26 May 2009, America's corn farmers did some serious catching up on planting chores last week but remain behind the pace of 1993, a flood year for much of Iowa, Missouri and the Mississippi Valley and the slowest corn planting year since 1990.
The major catching up, of course, occurred in the eastern Corn Belt states where wet conditions have put planting on a record slow pace. Illinois and Indiana went from 20 and 24 per cent planted, respectively, one week ago to 62 and 55 per cent planted this week. Those numbers are still well behind the pace of the past 5 years which saw corn planted on 96 per cent of intended Illinois acres and 89 per cent of the intended acres in Indiana. Ohio and Michigan gained even more on their five-year averages with Michigan corn plantings reaching 77 per cent (the average is 86 per cent) and Ohio plantings reaching 76 per cent (versus a "normal" of 88 per cent). Nationally, 82 per cent of corn acres were planted as of 24 May. That is still the slowest pace since 1990 but is only 4 per cent behind last year and 11 per cent behind the five-year average. Both of those numbers are sharp improvements from last week.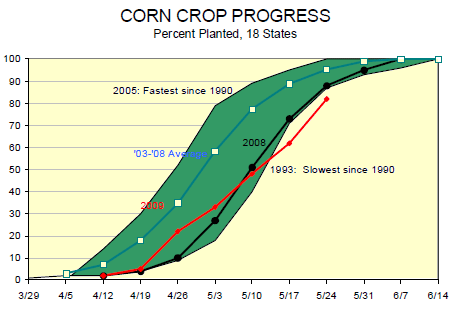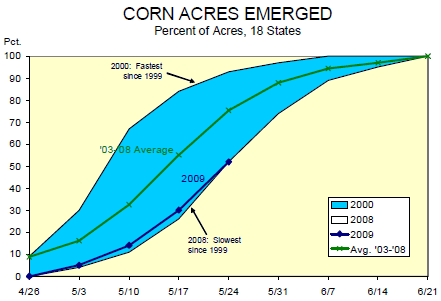 Some analysts and crop scientists contend that we put too much emphasis on planting dates when it is emergence that is the critical factor for corn performance. Well, we are a slightly bit better off on that measure with 52 per cent of the corn emerged as of 24 May. That compares to last year's level of 48 per cent and a five-year average of 71 per cent. Admittedly, last year's planting and emergence pattern was far short of optimal and yet that crop yielded 153.9 bushels per acre, the second highest on record.

In today's trading BEFORE the Crop Progress report was released, CME Group new crop corn futures were mixed with fall contracts falling by 1.75 to 2.5 cents/bushel.

Soybean planting also progressed at a faster pace last week (see Figure 1) with farmers planting 23 per cent of intended acres to push the year-to-date total to 48 per cent, just 1 per cent behind last year's pace but well short of the five-year average of 65 per cent. As can be seen, this pace is BARELY faster than that of 1993 which was also the slowest on record for soybeans. The regional pattern is, quite predictably, the same for soybeans as for corn with western Corn Belt states generally ahead of schedule and eastern Corn Belt states behind. The exception to that statement is Missouri, where wet conditions have slowed planting much the same as it has in states to the east. While progress is slow, planting dates are not critical for soybeans YET — especially in the east where average first-frost dates are later than for western states.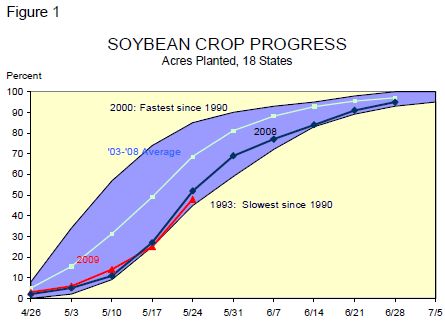 Soybeans were 8 to 20 cents per bushel higher while soybean meal gained $9 to $15/ton in trading before the report was released. Soybean oil futures were 35-36 points lower. Concerns about tight soybean stocks and still-declining estimates of Argentina's crop have driven beans and meal sharply higher in recent weeks. June soy meal futures reached $390/ton today, nearly 50 per cent higher than the $262/ton close on 6 March. All other old-crop meal contracts have gained over $100/ton over that period. Gains on new-crop contracts are near $100.

A $100/ton increase in meal price adds roughly $20/ton to the cost of an average pig diet. A 270-lb. market hog in a modern production system will require roughly 3 pounds of feed to produce a pound of live weight. The 810 lbs. of feed that the pig would eat would cost $8.10 more due to the $100/ton higher meal, adding $3/cwt live or $4/cwt carcass to production costs.