International Egg and Poultry Review
GLOBAL - By the USDA's Agricultural Marketing Service (AMS). This is a weekly report looking at international developments concerning the poultry industry. This week's report is about US poultry meat trade and an allegation of poultry dumping by Ukraine.
US Poultry Outlook
US broiler exports totaled 254,465 metric tons (MT) in February, down eight per cent from January (275,690 MT) but up 11 per cent from February 2008 (230,026 MT). The effects of the global economic downturn on exports were partially mitigated by lower priced leg quarters. Leg quarter exports for the first two months of 2009 totaled 309,287 MT compared to 266,024 for the same period in 2008, an increase of 16 per cent.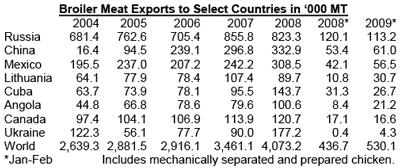 Turkey exports totaled about 17,825 MT in February, about unchanged from January (17,773) but down 20 per cent from February 2008 (22,219 MT). February 2009 shipments were lower to Mexico and Russia, which are the major markets. Higher exports to some of the smaller markets, such as the Dominican Republic, Panama and Hong Kong offset the loss.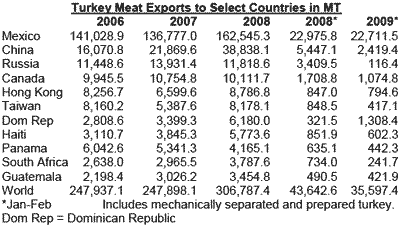 Exports of ducks, geese and guinea fowl meat and products totaled 497.5 MT in February 2009, unchanged from the previous month (495.7 MT) and down eight per cent from February 2008 (537.7 MT). Canada and Mexico traditionally are the US's largest markets.

US Trade Exports - FAS Commodity Aggregations definitions (click here).
Source: USDA Economic Research Service; Department of Commerce, US Census Bureau, Foreign Trade Statistics FAS Agricultural Export Commodity Aggregations.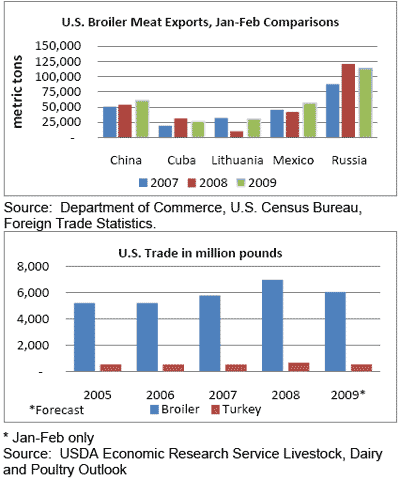 Ukraine Starts Anti-Dumping Investigation
After several Ukrainian companies filed a petition for an investigation into the existence and impact of dumping chicken supplied from Brazil and the United States, the government of Ukraine opened an anti-dumping proceeding against the exports of chicken meat from Brazil and the United States on 17 March 2009.

According to one source, the Ukraine's claim is that the prices of Brazilian products were 189 per cent lower than the companies selling on the domestic market and US products were 110 per cent lower. They claimed US poultry imported into Ukraine sold at $0.45 per kg compared to $0.90 per kg in the US.

There are three methods to calculate a product's 'normal value'. The main one is based on the price in the exporter's domestic market. There are two alternative methods: the price charged by the exporter in another country or a calculation based on the combination of the exporter's production costs, other expenses and normal profit margins.

Under WTO agreements, anti-dumping measures can only be applied if the dumping is hurting the industry in the importing country. Therefore, first a detailed investigation has to be conducted according to specified rules. If the investigation shows dumping is taking place and the domestic industry is being hurt, the exporting company can undertake to raise its price to an agreed level in order to avoid an anti-dumping import duty. An anti-dumping investigation can be lengthy and complicated and take a year to complete.

Source: World Trade Organization, news wires
Further Reading