Smart Expansion for Spain's Avilesa
SPAIN - Avilesa has commissioned Pas Reform's Spanish representative, Maker Farms, for the complete expansion and modernisation of its hatchery.
Avilesa, a member of Spain's Pujante Group, has commissioned Pas Reform's Girona-based Spanish representative, Maker Farms S.A., for the complete expansion and modernisation of its hatchery at Sangonera la Verde, near the city of Murcia in south-eastern Spain.

The Spanish hatchery has increased capacity by more than twenty per cent, as a result of the refurbishment. Avilesa supplies broiler chicks to farms within a 60 to 70 kilometres radius, and now has the capacity to produce 307,200 chicks per week.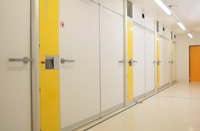 Hatcher room
Avilesa's managing director, Particio Pujante, chose Pas Reform's Smart single-stage incubation technologies after reviewing a number of available options.

"After the cost of the hatching eggs, the amortisation costs of the hatchery building and its incubators are the second most important cost factor in broiler production," said Mr Pujante. "When we considered this alongside modern requirements for hygiene and biosecurity, we found Pas Reform's Smart incubation technologies offered the most comprehensive and viable investment for Avilesa's future needs."

At Avilesa's request, Pas Reform designed the new hatchery to fit within an existing hatchery building, with auxiliary equipment housed in an adjacent structure. Of the old building, only the exterior remains unaltered. The interior has been completely transformed, to include:
a cold storage room for the reception and storage of hatching eggs.
an incubator room with 12 SmartSet setters, six either side of a central corridor.
an independent and isolated egg transfer room, using negative pressure to avoid contamination of the other hatchery rooms, and
two independent hatching rooms, allowing for separate hatches and improved hygiene and biosecurity.
Each hatching room is equipped with four SmartHatch hatchers, with a total capacity of 76,800 eggs – the same capacity as the 12 SmartSet incubators – expanding hatching capacity to 76,800 × four hatches per week, or 307,200 chicks per week.

All incubators are controlled by the SmartDrive system, an advanced management system that permits the precise adjustment of incubation conditions to each type of egg. SmartDrive is complemented by SmartCenter, a powerful hatchery information management system.