CME: 12-City Composite Broiler Prices Increase
US - According to CME's Daily Livestock Report for 12 June 2009, finding positive news in the meat business is not an easy task these days and, while not as bad a week as some in the recent past, this week was no feel good source for battered livestock and meat producers.
Generally, meat prices continued to decline on lower week-on-week and year-on-year offerings, a negative statement about the state of farm-level demand. The chicken business is a different story, however — more on that later.

First for beef — the Choice cutout value lost 1.1 per cent for the week and 11 per cent versus last year on FI slaughter that was 1 per cent lower than last week and 3 per cent lower than last year. None of those relationships are encouraging. Lower slaughter runs had held the promise of higher cattle prices at some point this summer but pork and beef demand (or is it supply? — more on that later, too!) have kept beef prices under pressure. Cattle feeders have finally gotten weights back to near year-ago levels, a positive factor in this market but lower production is still not commanding higher prices as ample pork supplies and continued export challenges cloud the cattle demand picture. It is too early to tell what the impact of the CWT dairy buyout might be. Note that beef cow slaughter in the table at left is for two weeks ago — Memorial Day week. Dairy cow slaughter has been erratic but trending upward the past four weeks but look for it to grow sharply as we get into July and the CWT cows start moving to harvest.

And now pork. It appears that when it rains, it pours for pork producers. Last week's slaughter was 1.2 per cent lower than the week before but 1.3 per cent HIGHER than last year in a week when the March Hogs and Pigs Report and changes in Canadian imports suggested that slaughter should be 3 per cent of so LOWER than last year. As can be seen in Figure 1, FI hog slaughter has exceeded the levels suggested by the March report for 5 weeks now. "That's because H1N1 backed hogs up," someone says. But where was the week when slaughter was sharply lower than expected? Yes, packers slowed hogs down some the week of 1 and 8 May, but it doesn't show up in this graph. "But weights are not falling as they should be, we must be backing hogs up." True, see Figure 2. But taken together, these facts say we are seeing some unexpected pigs. Ugh, more hogs (by 1.6 per cent versus our forecast levels since 5 May), bigger hogs (2 lbs. or 1 per cent more than the 1 lb. or 0.5 per cent increase we expected) PLUS the lion's share of the 3.7 per cent of our production that Mexico was taking through March and the 1.3 per cent of our production that Russia was taking in February and March. Add those up and you get 7.6 per cent more pork on the US market than was expected in late April. A demand issue — export demand that is — has caused a supply issue. Compare the expected price impact of 7.6 per cent more product to what has actually happened and domestic pork demand doesn't look bad at all.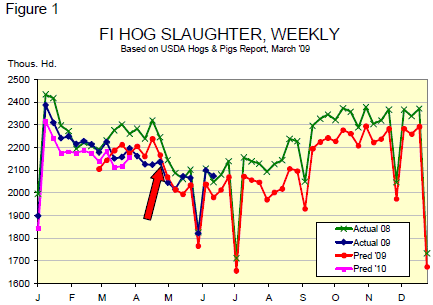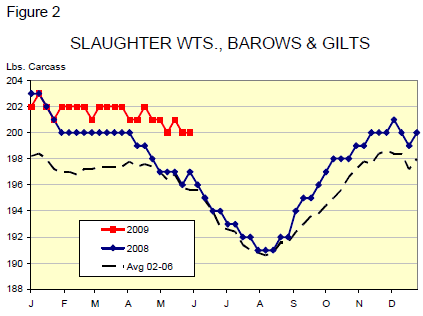 And that brings us to chicken. 12-city composite broiler prices have increased over $10/cwt since early April. Breast meat prices have strengthened about 10-cents/lb. but are still only $1.50/lb. for boneless/ skinless breast. The star has been legs and leg quarters: Up 22 and 40 per cent, respectively since 4 April (see Figure 4). Those importers in Mexico, Russia and China had to buy something, didn't they?