International Egg and Poultry Review
GLOBAL - By the USDA's Agricultural Marketing Service (AMS). This is a weekly report looking at international developments concerning the poultry industry. This week's report covers the global poultry outlook.
World Poultry Outlook to 2018
World broiler trade is projected to grow at a rate of 3.1 per cent annually and reach 8.34 million metric tons (mmt) in 2018. Production is expected to increase by 2.1 per cent, reaching 79.53 mmt in 2018. The US is expected to lose 1.2 percentage points of market share while Brazil gains 3.8 percentage points and Thailand regains 1.5 points of market share.

Brazil's aggressive promotions in overseas markets encourage Brazilian poultry exports. Government fiscal incentives and subsidies promote new large investments in broiler production.

Thailand lost 59.4 per cent of its exports after AI outbreaks that began in 2004, but exports have been recovering. Thailand increased productivity and product innovation and shifted to higher valued products. These actions helped Thailand overcome SPS concerns and a higher cost of production.

The EU changed from a net exporter to a net importer in 2007. Net poultry imports are projected to reach 91 thousand metric tons (tmt) in 2018. Reasons include aggressive promotion by low-cost exporters in the EU's traditional market destinations, a new import quota by Russia, high feed costs, strict animal welfare rules, and other environmental regulations.

China's net imports are projected to grow at 5 per cent annually and reach 612 tmt in 2018 while strong domestic demand in Mexico is expected to result in an annual 5.5 per cent growth in net imports and reach 669 tmt in 2018.

Taiwan's imports are projected to increase 9.5 per cent annually and reach 130 tmt in 2018. A shift to differentiated local breeds sustains domestic production at a growth rate of 1.5 per cent per year. Russia's poultry imports are projected to decline 1 per cent annually as domestic production grows 4.1 per cent, exceeding the 2.0 per cent growth in consumption.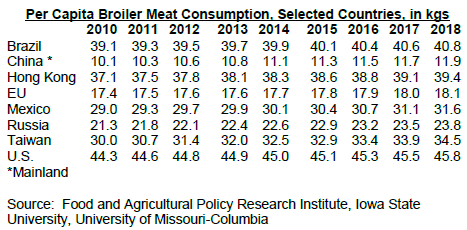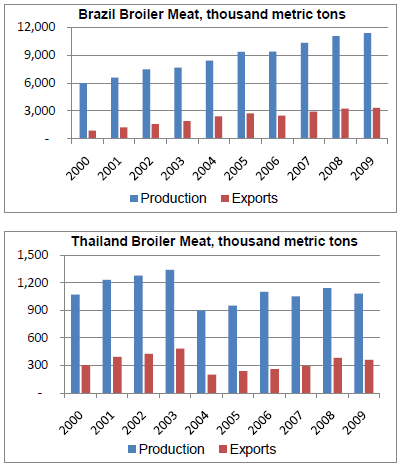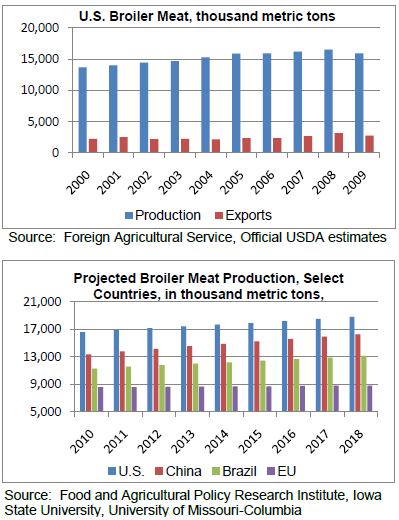 Further Reading