Kelly is World's Fastest Turkey Carver
UK - Turkey farmer, Paul Kelly, set the Guinness World record for the fastest carving of a turkey at the 25th anniversary celebration of the KellyBronze turkey last week.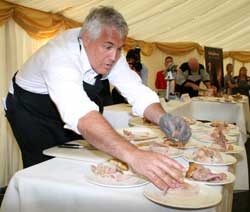 Paul Kelly finishing the 14th serving (above) in his usual exuberant style; Marguerite Patten celebrating the occasion with Mollie Kelly (below)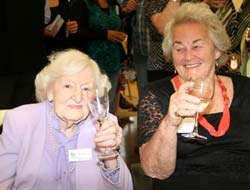 Award-winning turkey farmer, Paul Kelly, has added another Guinness World Record to his name at the celebration event on 3 June for the 25th anniversary of the KellyBronze turkey.

Paul is now officially the fastest turkey carver on the planet! Stop-watch in hand, adjudicators declared his time for carving 14 portions from a five-kilogramme turkey was a mind-blowing 3 minutes and 19 seconds.

Already the world's fastest turkey plucker, he competed against Leigh-on-Sea Q Guild butcher, David Harrison, and delivered the portions – each weighing at least 150 grams – on to 14 separate plates way head of the expected time.

Last Christmas, he beat celebrity chef, Gordon Ramsay, to the fastest plucker title, when he plucked three 16-pound turkeys ready for the oven in just 11 minutes and 30 seconds.

Mr Kelly, managing director of Kelly Turkey Farms, which breeds the famed KellyBronze turkeys, uses a technique he has developed by first cutting along the breast bone to remove the beast meat and then cutting this into slices. "It's my own method that I've perfected over the years – and everyone should do it my way when they carve their Christmas turkey because it's foolproof."

He set the world record at the party at his Howe Green Farm, near Chelmsford in Essex, to celebrate 25 years of producing the award-winning KellyBronze turkeys – and of the revival of the traditional bronze-feathered birds now enjoying increasing popularity.

More than 150 guests attended the celebration party where Paul's father, Derek, spoke about importance of flavour in developing the product and paid tribute to the contribution of his wife, Mollie, and her 'fantastic taste buds'.

Special guest was cookery doyen, Marguerite Patten, who advised the government on the nation's diet during the war years and became a pioneer of promoting good food and a healthy diet. She spoke about the roles that individual family members had played in developing the business, speaking of them as becoming 'the Kelly dynasty'.