New Cobb Sales Manager for Latin America
GLOBAL - Robin Jarquin has been appointed sales manager for Mexico, Central America and the Caribbean for Cobb-Vantress, Inc.
Robin Jarquin succeeds Dr Kate Barger, who has become company veterinarian and quality assurance manager for Cobb Europe.

He joined Cobb in 2005 after graduating from the University of Arkansas with a BS in Poultry Science, an MS in agribusiness and an MS in poultry science. He is currently working on his PhD in poultry diseases at the University of Arkansas.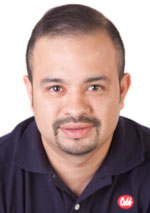 Robin Jarquin
Mr Jarquin, who also has a BS in agriculture and animal science from Zamorano College in Honduras, began his career in the poultry industry with ConAgra.

With Cobb he has managed flock health testing, disease control and prevention programmes and also helped customers with implementing biosecurity programmes.

He is an active member of Poultry Science Association, World Poultry Science Association, Asociacion Nacional de Especialistas en Ciencias Avicolas de Mexico and Asociacion Latinoamericana de Avicultura.

"We are very excited to have Robin on our sales team," says Heath Wessels, Cobb sales manager, US and Canada. "His broad educational background and technical understanding of the Cobb breeding program will make him invaluable in growing our business across his region."