International Egg and Poultry Review
US - By the USDA's Agricultural Marketing Service (AMS). This is a weekly report looking at international developments concerning the poultry industry. This week's report covers US May egg shipments.
US Egg Shipments up in May
Shell egg exports rose to 7.68 million dozen in May, up from 4.17 million dozen in April 2009 and from 4.26 million dozen in May 2008. The increase in exports came after sharp declines in egg prices following Easter. Hong Kong is our largest market to date this year, followed by Canada. Exports to the United Arab Emirates (UAE) were strong in May, but for the past two years shell egg exports to the UAE have been disproportionally high in just one month of each year. In 2008, US shell egg exports to the UAE totaled 2.67 million dozen eggs, 1.22 million of them in June. In 2007 the total was 4.95 million dozen, with 3.09 million dozen in May alone.

Hatching egg exports fell to 20.30 million dozen for January through May 2009, sharply lower than the 26.53 million dozen for January through May 2008. Exports to Canada totaled 5.23 million dozen for the first five months of 2009, compared to 6.74 million dozen for the same period in 2008. Canada is by far our largest market for hatching eggs.

The US imported 108 million dozen eggs from January through May this year, compared to the 23,725 million dozen exported. Most of the imported eggs come from Canada with a smaller volume from New Zealand.

Canada is the only country approved to export egg products to the US.

Source: Department of Commerce, US Census Bureau, Foreign Trade Statistics; Agriculture and Agri-Food Canada, AISD, AID, Poultry Section; USDA Food Safety Inspection Service; USDA AMS Poultry Programs Market News and Analysis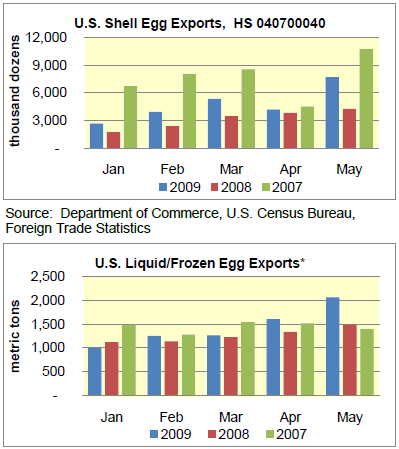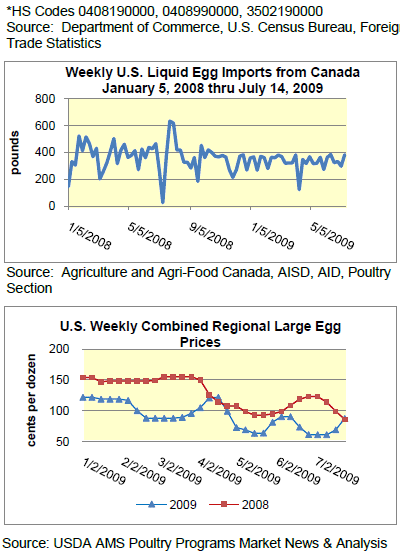 Further Reading