Meriden Appoints IPCO as Sole Distributor in Yemen
YEMEN - Meriden Animal Health Limited has appointed International Poultry Consulting Office (IPCO), as its sole distributor for the range of Meriden products in Yemen.
IPCO was represented by its Director, Dr. Turqi Sarakbi, who is also a poultry pathologist and expert.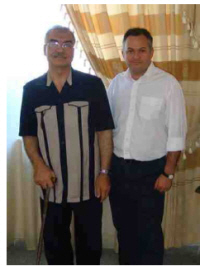 Pictured left: Dr. Turki Sarakbi, Director, IPCO (left); Mr. William Stewart, Regional Sales Manager, Meriden Animal Health Limited (right).
According to Mr. William Stewart, Regional Sales Manager of Meriden Animal Health Limited (UK), Dr. Turqi has already been actively promoting its core product, Orego-Stim® to all poultry producers and veterinarians in Yemen and he is confident that they will see positive results very quickly.

Dr Turqi knows that Yemen will be a fast-growing market for Orego-Stim®, as according to him: "Our people use natural food and our chickens have vegetarian feed, therefore they welcome Orego-Stim® to prevent and control poultry gastrointestinal disease problems such as necrotic and ulcerative enteritis, and also coccidiosis.

"They are very happy with its efficacy and affordability, as Orego-Stim® was able to replace both amprolium and ampicillin at a single go in many broiler, layer and breeder farms."