Big Dutchman Welcomes New Family Member
GERMANY - Together with Clovis Rayzel, President of Big Dutchman USA, a team of Poultry Management Systems, Inc (PMSI) from the US recently visited the headquarters of the Big Dutchman group in Vechta, Germany.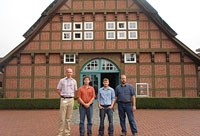 CEO Bernd Meerpohl shows the guests around the Big Dutchman premises at Vechta, Germany. From left to right: Bernd Meerpohl, Doug Powell (PMSI President), Eric Hansen and Sean Ryan.
Doug Powell (President of PMSI), Eric Hansen and Sean Ryan (PMSI engineers) were welcomed by CEO Bernd Meerpohl who then toured the group around the Big Dutchman campus. He also chaired several meetings with technical teams to start cooperation and integration in product lines beween Big Dutchman and PMSI which had recently entered the BD family.

In April this year Big Dutchman had acquired a majority interest in PMSI, located in Saranac, MI, USA. According to Clovis Rayzel the similarities between both companies had led to the acquisition as they would share common values such as the same customer driven and solutions oriented philosophy. PMSI, which was founded in 1980, holds the majority of the market share in the USA and Canada in computers (hardware and software) for the egg production industry.