EggTester Releases Major Upgrade to EggAnalyzer™
US - Orka Food Technology Ltd (better known as EggTester.Com) announced today that it has released Version 3.00 of its market-leading egg quality testing equipment, EggAnalyzer™.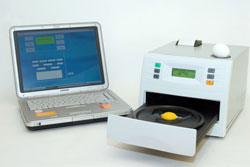 New in Version 3.00 of EggAnalyzer™
Speed up system operation time
Improve accuracy of Yolk color identification
Improve Albumen height calibration process and accuracy
Print of more average results
RE-START option
Stand alone Egg weight measurement
TEST MODE option (for technician use only)
Stand alone Albumen Height calibration (for technician use only)
The EggAnalyzer™ measures an egg's weight, albumen height and yolk color, and automatically calculates the Haugh unit and USDA-grade in just 17 seconds (Patent Pending). EggAnalyzer's cutting-edge technology answers the need for consistent, accurate, and objective egg-quality testing. Prior to EggAnalyzer's release in 2006, traditional testing methods provided subjective and, therefore, inconsistent results.
About Orka Food Technology
Orka Food Technology (better known as EggTester.Com) is a leading worldwide supplier of egg-quality measuring equipment. The company was established in 2004 to respond to the needs of the egg industry for innovative, labor-saving, high-quality devices for measuring egg-quality. The professionals who founded EggTester.Com have backgrounds in multidisciplinary engineering, advanced medical devices, research, development and marketing.
The flagship product, Egg Analyzer™ (patent pending), was released in early 2006 and was soon followed by a series of other egg-quality measuring devices, such as Eggshell Thickness Gauge and Egg Force Reader.
Besides manufacturing state of the art egg-quality measuring equipment, Orka Food Technology is involved in ongoing research and development of other egg-quality measuring devices. The company sells internationally and maintains a network of distributors worldwide to assist with technical support and service.
For further inquiries, please contact at:
[email protected]
Or, visit our website:
http://www.eggtester.com/