German Broiler Growers Visit Wimex
GERMANY - More than 20 German broiler growers and feed industry consultants visited the different departments of Wimex, Europe's largest producer and exporter of broiler hatching eggs.
Wimex is involved in several sectors of the poultry industry, with its subsidiary Cobb Germany the exclusive distributor in more than 20 central and Eastern European countries for the world's most popular broiler breeder, the Cobb 500.

Among the visitors was a representative of the largest Ukrainian poultry producer, Mironovski Hleboproduct. Julia Safronova enjoyed the opportunity to learn more about Wimex's activities.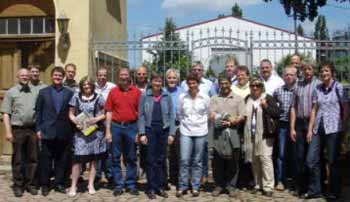 Germany broiler growers and feed industry consultants on their visit to WIMEX
The visit took in the Baasdorf office, Rosefeld hatchery, Wulfen farm and one parent stock flock, biogas plant and Bördergarten vegetable production.

Discussion among the group focused on the close link between strict cost management and profitability, with the Cobb 500 broiler able to perform well on a lower cost feed.

The new logistics center of the Wimex subsidiary, Bördergarten, in Arensdorf was particularly interesting for the group. Here, vegetables are retained in a fresh condition for supply to virtually all supermarket chains.

The visit ended with a splendid meal with the general management of Wimex and Cobb Germany, specialists and veterinarians.