IT Disaster Recovery Plan is Essential
US - A recent conference for the poultry industry highlighted the importance of a disaster recovery plan following an IT catastrophe.

Technology has changed the way in which today's business is conducted. Companies depend on the ability to communicate efficiently internally and externally. Without functioning computers and telecommunications, business can be crippled. The 2009 Information Systems Seminar, sponsored by the US Poultry & Egg Association's Poultry & Egg Institute, provided tactical initiatives to prepare and implement an IT disaster recovery (DR) plan.

Presiding at this year's conference, Kendall Layman, Cobb Vantress, cautioned: "It is the information systems department's responsibility to have a plan in place to keep our business moving in the midst of a disaster. Companies who plan for an interruption ahead of time will reap the benefits of having an organization with little or possibly no down time," he said.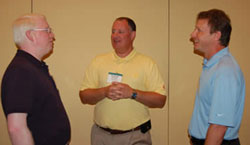 Programme committee member, Kendall Layman (centre) reviewed the agenda with 'Disaster Recovery Best Practices' speakers: Chris Crosby (left) and Kurt Heise
Speaking on 'Disaster Recovery Best Practices', Chris Crosby, also of Cobb Vantress, explained that his company lacked a true disaster recovery plan before 2007. But after careful evaluation, a new plan was developed.

"We decided to approach the new disaster recovery plan in three phases," he said. Mr Crosby then examined in detail the three phases: data protection, redundancy and business continuity implementation, and disaster recovery testing and procedures."

Mr Crosby also shared some ideas for future DR initiatives, including SQL replication and locating terminal servers at remote 'hub sites', deploying a distant 'hot site' and a SAN deployment.

Also speaking on disaster recovery, Kurt Heise, Farbest Foods, discussed his company's off-site plan. He said that their back-up server is located at a remote but convenient location and connected by fibre optic line. Mr Heise described his company's system used to back up their data.

Additional topics covered at the seminar included mobile technology/telecommuting' by Christen Christian, House of Raeford and Jack Kutchen, Perdue Farms; cost-saving pptions in lean times: server virtualisation' by Michael Bloom (VMware) and webinars/video conferencing" by Zorana Bojanovic (Watt) and Kendall Layman.