Aviagen Underlines Importance of Good Nutrition
SCOTLAND, UK - Aviagen was delighted to be an active partner in the 17th European Symposium on Poultry Nutrition.
The extremely successful event, held from 23 to 27 August in Edinburgh, Scotland, attracted over 500 commercial nutritionists and nutritional scientists from more than 50 countries.

Aviagen was proud to be a sponsor of the event which generated a lot of debate, discussion and opinion from some of the industry's leading figures. Aviagen's own nutrition team, which supports Aviagen customers around the world with advice to maximise parent stock and broiler profitability under their local conditions, also took the opportunity to meet with key clients and contacts throughout the event.

Marc de Beer, Head of Aviagen's Global Nutrition Team, presented a paper on broiler breeder nutrition and demonstrated to the audience the impressive genetic improvements in broiler growth rate, feed conversion and yield and how these have affected nutritional requirements of parent stock.

Dr de Beer said: "The nutrition of broiler breeders has quite rightly received more attention over the last few years as producers look to improve the overall profitability of their operations. Our own research has shown the value of good nutritional advice as part of successful breeder performance as well as its effect on progeny performance.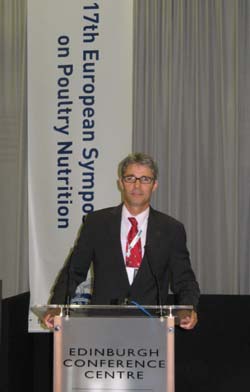 Leonardo Linares
"One of the key findings from recent breeder research is that amino acid intake should be controlled. This will overcome excessive breast muscle development and result in better persistency and fertility. Like many nutritional issues the key is to strike the right balance to get the best results."

Another paper, covering the effects of amino acid requirements in growing male turkeys, was presented by Leonardo Linares, one of the newest members of Aviagen's Global Nutrition Team. The event provided a great opportunity for customers to meet with specialists like De de Beer, Dr Linares, Dr Carolyne Kemp and Dr Marcus Kenny and the Aviagen stand was busy throughout the four-day event as people came to discuss nutritional topics.

Dr de Beer summed up the event, saying: "The interest we had in the stand and the number of visitors to the event overall means this was a great success for Aviagen and the poultry industry in general. We look forward to seeing the results of our work benefiting our customers and their businesses."